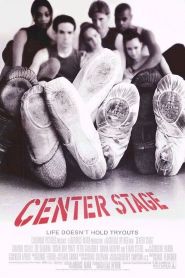 General Information
Glossary: C
Released Year: 2000
Runtime: 115 minutes
Genre: Drama, Music
Directors: Nicholas Hytner
Casts: Marcia Jean Kurtz, Eion Bailey, Zoe Saldana, Amanda Schull, Debra Monk, Donna Murphy, Peter Gallagher, Susan May Pratt, Maryann Plunkett, Scottie Thompson, Ethan Stiefel, Elizabeth Hubbard, Sascha Radetsky, Megan Pepin
IMDB: Center Stage (2000)
Sponsored Links
Ratings
User Rating:
IMDB Rating:
6.7
Reviews
Dallas Observer

-

Audiences will leave the theater ready to sign up for some dance classes themselves.

Chicago Sun-Times

-

The movie uses the materials of melodrama, but is gentle with them; it's oriented more in the real world, and doesn't jack up every conflict and love story into an overwrought crisis.

The New York Times

-

Sexy and infectious in spite of itself.

Film.com

-

There isn't a sensible reason to recommend this movie, except that its melange of clichés and conventions is embarrassingly enjoyable.

San Francisco Examiner

-

Aiming to keep it real, the cast of the new dance casserole Center Stage sweats spunk.
Center Stage (2000)
A group of 12 teenagers from various backgrounds enroll at the American Ballet Academy in New York to make it as ballet dancers and each one deals with the problems and stress of training and getting ahead in the world of dance.