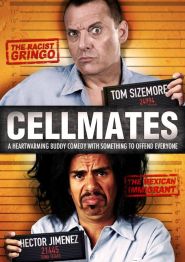 General Information
Glossary: C
Released Year: 2012
Runtime: minutes
Genre: Comedy, Drama
Directors: Jesse Baget
Writers: Jesse Baget, Stefania Moscato
Casts: Tom Sizemore, Stacy Keach, Tom Gulager, Olga Segura, Héctor Jiménez, Kevin Farley, Bob Rickard, Rock Williams, Kaj Sturdivant
IMDB: Cellmates (2011)
Sponsored Links
Ratings
User Rating:
IMDB Rating:
5.6
Reviews
The Hollywood Reporter

-

Its low-rent cast and unappealing key art won't help at the box office, but viewers who stumble across it on cable may be pleasantly, if mildly, surprised.

Variety

-

Director Baget clearly strives to replicate the ersatz Dixie flavors of "O Brother, Where Art Thou?" right down to the vintage '30s music in a film set in the 1970s, but nailing the Coen brothers' precisely calibrated style is far harder than it looks.

Village Voice

-

The film, directed by Jesse Baget, aims to be a satiric look at racism but at every turn flaunts the laws of logic and believability.

The New York Times

-

The credibility is low, the idealism high and the sentiment through the roof in Jesse Baget's slender, micro-budgeted comedy Cellmates, a schematic parable about racism and (less overtly) illegal immigration.

Slant Magazine

-

The film offers Tom Sizemore the perfect opportunity to prove himself worthy of a comeback. Alas, he fails spectacularly.
Cellmates (2011)
Leroy Lowe, grand dragon of the Texas Ku Klux Klan confronts everything he's been taught to hate when he's sentenced to three years of hard labor on a prison work farm, where Warden Merville, dead set on rehabilitating Leroy, chooses Emilio, a Hispanic field worker imprisoned for fighting for labor rights, to be his cell-mate. Leroy, confined in a small cell with the enemy, far from the KKK comrades who deserted him, finds the chatty Emilio slowly chipping away at his anger and prejudice. His weekly rehabilitation meetings with the warden, barely tolerable as the man drones on about farm labor and field crops, take on a different meaning when Madalena, a beautiful Mexican maid is hired to clean the warden's office. An unconventional love story develops that opens Leroy's eyes to the possibility of a different life. And a man who was a born and bred racist finds himself heading down a completely different path to salvation.