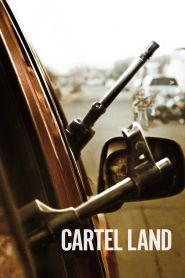 General Information
Glossary: C
Released Year: 2015
Runtime: 100 minutes
Genre: Action, Documentary, Drama, War
Directors: Matthew Heineman
Casts: Robert Hetrick, José Manuel Mireles Valverde
IMDB: Cartel Land (2015)
Sponsored Links
Ratings
User Rating:
IMDB Rating:
7.4
Reviews
Village Voice

-

Cartel Land is interested in how idealism becomes corrupt.

The Playlist

-

Heineman, in placing himself in such danger, has managed to create a remarkable and distinctive film that takes on a difficult issue that cannot be so conveniently remedied or ignored.

The Hollywood Reporter

-

Filmmaker Heineman vaults us into a true heart of darkness.

The Dissolve

-

Though Cartel Land isn't interested in making fact-filled statements about the drug war, Heineman's ingenious conceit gets at the difficulty ordinary people have in doing something about it.

Screen International

-

Matthew Heineman does break the mold in Cartel Land and gets inside citizens movements – better known as vigilantes – which overturn the cartels' monopoly on violence, for a while.
Cartel Land (2015)
In the Mexican state of Michoacán, Dr. Jose Mireles, a small-town physician known as "El Doctor," shepherds a citizen uprising against the Knights Templar, the violent drug cartel that has wreaked havoc on the region for years. Meanwhile, in Arizona's Altar Valley—a narrow, 52-mile-long desert corridor known as Cocaine Alley—Tim "Nailer" Foley, an American veteran, heads a small paramilitary group called Arizona Border Recon, whose goal is to halt Mexico's drug wars from seeping across our border.