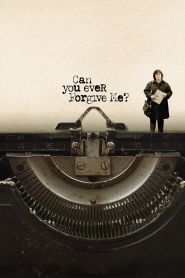 General Information
Glossary: C
Released Year: 2018
Runtime: 107 minutes
Genre: Comedy, Crime, Drama
Directors: Marielle Heller
Casts: Richard E. Grant, Marc Evan Jackson, Anna Deavere Smith, Alice Kremelberg, Melissa McCarthy, Gregory Korostishevsky, Joanna Adler, Michael Laurence, Shae D'Lyn, Marcella Lowery, Roberta Wallach, Jane Curtin, Mary B. McCann, Tina Benko, Ben Falcone, Pun Bandhu, Stephen Spinella, Lucy DeVito, Moisés Acevedo, Dolly Wells, Erik LaRay Harvey, Ben Rauch, Kevin Carolan, Michael Cyril Creighton, Marmee Regine Cosico, Brandon Scott Jones, Tim Cummings, Christian Navarro, Rosal Colon, Sandy Rosenberg, Ethel Fisher, Chris Lamberth, Josh Evans, Ricky Garcia, Charlotte Mary Wen, Marcus Choi, Justin Vivian Bond, Havilah Brewster
IMDB: Can You Ever Forgive Me? (2018)
Sponsored Links
Ratings
User Rating:
IMDB Rating:
7.3
Reviews
IndieWire

-

McCarthy elevates the material at every opportunity, and whenever the camera lingers on her expressions, she's a study in contradictions — tough and tender all at once, unsure which side of that spectrum to unleash.

Variety

-

It's the human side of the character that makes this McCarthy's best performance to date, revealing haunting insights into friendship, loneliness, and creative insecurity.

RogerEbert.com

-

Can You Ever Forgive Me? comes from a place of understanding and love that few other biopics truly dive into, and it makes this difficult character a joy to meet.

The Playlist

-

Israel, as noted by her own writing, had a caustic wit that works with McCarthy's comedic talents. She also brings a depth of emotion to Israel that comes to a head in a wonderfully composed scene with Grant at the end of the film.

Entertainment Weekly

-

Can You Ever Forgive Me?'s premise is so low-key outrageous, it would almost have to be true. And it is: a shaggy, endearingly dour portrait of the kind of true-life eccentric New York hardly seems to make anymore.
Can You Ever Forgive Me? (2018)
When bestselling celebrity biographer Lee Israel is no longer able to get published because she has fallen out of step with current tastes, she turns her art form to deception, abetted by her loyal friend Jack. It is a story of two difficult, socially inept, people somehow becoming partners-in-crime in forgeries: one creating and the other selling it.