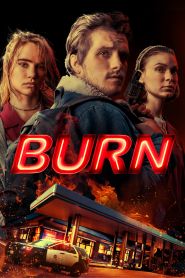 General Information
Glossary: B
Released Year: 2019
Runtime: 89 minutes
Genre: Thriller
Directors: Mike Gan
Writers: Mike Gan
Casts: Harry Shum Jr., Shiloh Fernandez, Josh Hutcherson, Suki Waterhouse, James Devoti, Winter-Lee Holland, John D. Hickman, Wayne Pyle, Steve Garfanti, Robert Figueroa, Tilda Cobham-Hervey, Malina Moye
IMDB: Burn (2019)
Sponsored Links
Ratings
User Rating:
IMDB Rating:
5.6
Reviews
Film Threat

-

The film is fast and tight and hits all the beats perfectly.

RogerEbert.com

-

Some of the choices strain credulity and the biggest name in the piece, Josh Hutcherson, feels miscast, but this is a film that kept me uncertain of what would happen next and affirms Gan as an interesting young filmmaker to watch.

Variety

-

The problem is that writer-director Mike Gan's first feature, though competently handled in most departments, doesn't commit enough to any approach to fulfill its potential.

The Hollywood Reporter

-

Neither Gan's screenplay nor his direction of the cast quite sells this scenario, but once he introduces some accidental violence, the picture can ride the familiar logic of crime-gone-wrong storytelling.
Burn (2019)
Lonely, unstable gas station attendant Melinda is tired of being overshadowed by her more confident, outgoing co-worker Sheila. When the gas station is held up at gunpoint by Billy, a desperate man in need of quick cash, Melinda finds an opportunity to make a connection with the robber, regardless of who gets hurt.