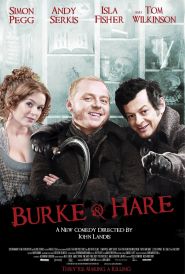 General Information
Glossary: B
Released Year: 2010
Runtime: 91 minutes
Genre: Comedy, Thriller
Directors: John Landis
Writers: Piers Ashworth, Nick Moorcroft
Casts: Andy Serkis, Simon Pegg, David Schofield, Allan Corduner, Tom Wilkinson, Simon Farnaby, Christopher Lee, Pollyanna McIntosh, Stephen Merchant, Max Landis, Paul Whitehouse, Bill Bailey, Jessica Hynes, Isla Fisher, Tim Curry, Steve Speirs, Georgia King, Reece Shearsmith, Duncan Duff, David Hayman, Michael Smiley, Jenny Agutter, Hugh Bonneville, Christopher Obi, Tom Meeten, Joseph Dewey, John Woodvine, Ella Smith, Ray Harryhausen, Billy Riddoch, Costa-Gavras, Michael Winner, Tom Urie, Michael Billington, Ronnie Corbett, Ciaron Kelly, Janet Whiteside, Michèle Ray-Gavras, Romain Gavras, Emmanuel Hamon, Theo Hamon
IMDB: Burke and Hare (2010)
Sponsored Links
Ratings
User Rating:
IMDB Rating:
6.2
Reviews
The A.V. Club

-

The new Burke & Hare offers many pleasures, chief among them the return of the Landis of old.

The New York Times

-

Those who care less about such stuff than about being entertained will find plenty to like in this ghoulish comedy, a droll take on one of the most notorious mass-murder cases of the 19th century.

Variety

-

The film struggles to match the original Ealing's quality benchmark, and its unapologetically old-fashioned sensibility may have trouble connecting with contempo audiences.

New York Post

-

All of the actors are enjoying themselves, and the movie is stuffed with history, atmosphere and vivid characters. What's in short supply, though, is laughter.

The Hollywood Reporter

-

A so-called black comedy that is more sort of dull, spotty and yucky.
Burke and Hare (2010)
Two 19th-century opportunists (Simon Pegg, Andy Serkis) become serial killers so that they can maintain their profitable business supplying cadavers to an anatomist (Tom Wilkinson).