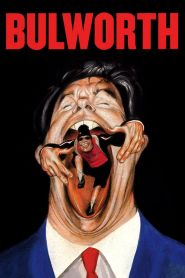 General Information
Glossary: B
Released Year: 1998
Runtime: 108 minutes
Genre: Comedy, Drama, Romance
Directors: Warren Beatty
Casts: George Hamilton, Wendell Pierce, Michael Clarke Duncan, Kevin Cooney, Brian Hooks, Sarah Silverman, Kirk Baltz, Nora Dunn, Halle Berry, Don Cheadle, Oliver Platt, Laurie Metcalf, Barry Shabaka Henley, Larry King, Scott Michael Campbell, Paul Sorvino, Christine Baranski, Jermaine Williams, James Pickens Jr., Debra Monk, William Baldwin, Adilah Barnes, Isaiah Washington, Sean Astin, Graham Beckel, Randee Heller, Robin Gammell, J. Kenneth Campbell, Florence Stanley, Jack Warden, Joshua Malina, Jann Carl, Deborah Lacey, Myra J., Jim Haynie, Thomas Jefferson Byrd, Warren Beatty, Helen Martin, Ernie Lee Banks, Amiri Baraka, Kimberly Deauna Adams, Vinny Argiro, Deborah Moore, Marion Jackson
IMDB: Bulworth (1998)
Sponsored Links
Ratings
User Rating:
IMDB Rating:
6.8
Reviews
San Francisco Chronicle

-

Beatty has fashioned a hilarious morality tale that delivers a surprisingly potent, angry message beneath the laughs.

Chicago Reader

-

Warren Beatty sounds off angrily and shrewdly about politics, delivering what is possibly his best film and certainly his funniest and livliest.

USA Today

-

Warren Beatty's uproariously rude Bulworth is 90% triumph.

Chicago Tribune

-

His movie isn't a surgical attack at this problem and that; it's a cluster bomb intended to reap destruction, make a mess and jolt all who see it to react.

TV Guide Magazine

-

Beatty's contribution to the ranks of recent political satire is bold, merciless and frequently very funny, and his performance is just plain fearless.
Bulworth (1998)
A suicidally disillusioned liberal politician puts a contract out on himself and takes the opportunity to be bluntly honest with his voters by affecting the rhythms and speech of hip-hop music and culture.