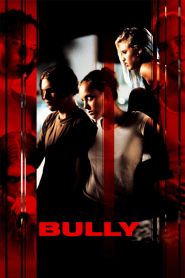 General Information
Glossary: B
Released Year: 2001
Runtime: 113 minutes
Genre: Biography, Crime, Drama
Directors: Larry Clark
Casts: Nick Stahl, Kelli Garner, Rachel Miner, Daniel Franzese, Michael Pitt, Bijou Phillips, Brad Renfro, Leo Fitzpatrick, Alan Lilly, Nathalie Paulding
IMDB: Bully (2001)
Sponsored Links
Ratings
User Rating:
IMDB Rating:
7.0
Reviews
Chicago Reader

-

The tone -- a combination of earnestness and gallows humor -- is strangely appropriate.

Newsweek

-

Ferocious and sometimes creepily funny, Bully is a raunchy suburban "Crime and Punishment."

Boston Globe

-

Nothing new to say, and, in the end, no real point to make.

Philadelphia Inquirer

-

Clark denies his audience the catharsis, resolution and renewal of classical tragedy. The film reduces its viewers to helplessness, and I'm not sure that's its intent.

Seattle Post-Intelligencer

-

It feels like a peek into the closet of a pedophile and it's genuinely discomforting.
Bully (2001)
After finding himself at the constant abuse of his best friend Bobby, Marty has become fed up with his friend's twisted ways. His girlfriend, a victim of Bobby's often cruel ways, couldn't agree more and they strategize murdering Bobby.