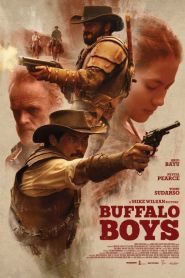 General Information
Glossary: B
Released Year: 2018
Runtime: 102 minutes
Genre: Action, Drama, Western
Directors: Mike Wiluan
Writers: Mike Wiluan, Raymond Lee, Rayya Makarim
Casts: Yoshi Sudarso, Hannah Al Rashid, Ario Bayu, Mike Wiluan, Conan Stevens, Tio Pakusadewo, Alex Abbad, Sunny Pang, Zack Lee, Cullet Eric, Pevita Pearce, Reinout Bussemaker, Alexander Winters, Happy Salma, Mikha Tambayong, El Manik, Donny Damara, Daniel Adnan
IMDB: Buffalo Boys (2018)
Sponsored Links
Ratings
User Rating:
IMDB Rating:
5.8
Reviews
Paste Magazine

-

What Buffalo Boys lacks in originality it makes up for in spirit. There's a verve in Wiluan's direction, a sense of joy shaping his approach to the tried and true familial vengeance hook.

The A.V. Club

-

Buffalo Boys isn't terribly concerned with sweeping vistas or slow-burn character development. Its primary function is simply to entertain, which in practical action-movie terms means lots of brawling and lots of blood.

RogerEbert.com

-

For the most part, Buffalo Boys is a decent folk tale, despite Lee and Wiluan's periodic application of "Game of Thrones"-style sensationalism.

Variety

-

All in all, this Eastern western is a jovial genre cocktail, but it'll be more interesting to see if its director can bring greater nuance to whatever his next project turns out to be.

The Hollywood Reporter

-

Leveraging highly polished production values evoking the Old West with detailed sets, authentic weapons and period costumes, Wiluan gets enough of the details right so that the genre's typical characteristics blend fairly seamlessly with the Indonesian adventure yarn.
Buffalo Boys (2018)
Set during the Dutch occupation of Indonesia, two brothers, who were raised in exile, return home to seek revenge and justice for the murder of their father.