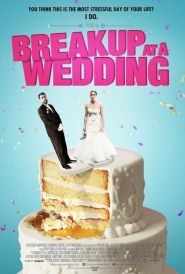 General Information
Glossary: B
Released Year: 2013
Runtime: 85 minutes
Genre: Comedy
Directors: Victor Quinaz
Writers: Philip Quinaz, Victor Quinaz, Anna Martemucci
Casts: Philip Quinaz, Alison Fyhrie
IMDB: Breakup at a Wedding (2013)
Sponsored Links
Ratings
User Rating:
IMDB Rating:
5.1
Reviews
New York Post

-

Breakup at a Wedding works, because Quinaz has come up with a concept that lets him skewer directorial pretension alongside wedding hysteria.

The New York Times

-

Everything goes pretty much as you guess it's going to, but the conceit of seeing the whole story through the eyes of the videographer adds a dimension to the familiar goings-on.

Village Voice

-

Those who believe weddings to be exorbitant, empty spectacles have a fair-weather friend in writer-director Victor Quinaz, whose inventive debut, Breakup at a Wedding, attempts an aloof, smirking pose but surrenders to sentimentality in the end.

The Hollywood Reporter

-

Watching your friends' actual wedding videos, however painful, would be a more edifying experience than sitting through Breakup at a Wedding.

The A.V. Club

-

Any rooting interest in the central lovers evaporates, as both seem so terminally stupid that the thought of them potentially having children together is frightening. Maybe their divorce proceedings will be hilarious.
Breakup at a Wedding (2013)
On the eve of their wedding, Alison gets cold feet and decides to break up with her fiancé Phil. But rather than face the embarrassment of calling off the ceremony, Alison suggests to Phil that they proceed with a sham wedding. Phil is more than game to try, secretly hoping that a surprise gift he has for Alison will ultimately change her mind. Yet once the guests begin to arrive, more complications ensue than either of them could have ever imagined - even if they did know their wedding was bullshit.