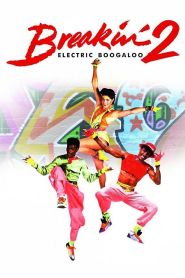 General Information
Glossary: B
Released Year: 1984
Runtime: 94 minutes
Genre: Comedy, Drama, Musical
Directors: Sam Firstenberg
Casts: Kimberly Spak, Harry Caesar, Ice-T, Michael Chambers, Herb Mitchell, Lucinda Dickey, Ken Olfson, Adolfo Quinones, William Cort, Susie Coelho, Jo De Winter, John Christy Ewing, Steve Notario, Sabrina García, Lu Leonard, Peter MacLean
IMDB: Breakin' 2: Electric Boogaloo (1984)
Sponsored Links
Ratings
User Rating:
IMDB Rating:
5.0
Reviews
Chicago Sun-Times

-

A modest, cheerful little movie like Breakin' 2: Electric Boogaloo is so refreshing. Here is a movie that wants nothing more than to allow some high-spirited kids to sing and dance their way through a silly plot just long enough to make us grin.

Variety

-

As a phenomenon, the hip-hop, breakdancing, sidewalk graffiti and rap music culture lends itself well to a comic book approach and to his credit director Sam Firstenberg doesn't try to interject too much reality into the picture.

The New York Times

-

Breakin' 2 slights dramatic matters to concentrate exclusively on dancing. The movie contains so much of it that it's exhausting even to watch, but at least the choreography isn't being executed by John Travolta.

The A.V. Club

-

Breakin' 2 turned out to be pure, laugh-a-minute cheeseball entertainment. Granted, it's utterly terrible, with stiff, amateurish acting, enough vivid Day-Glo to blind an army of sunglasses-wearing Corey Harts, and the thinnest and hoariest of thin, hoary old plots. But the camp value is through the roof.

TV Guide Magazine

-

Fast-paced, fully aware of its own foolishness, and with lively dance sequences, BREAKIN' 2 is an enjoyable diversion for those who like breakdancing.
Breakin' 2: Electric Boogaloo (1984)
The dance crew from "Breakin'" bands together to save a community center from a greedy developer bent on building a shopping center in its place.