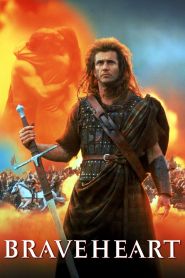 General Information
Glossary: B
Released Year: 1995
Runtime: 177 minutes
Genre: Action, Biography, Drama, History, War
Directors: Mel Gibson
Casts: David O'Hara, Rupert Vansittart, Tommy Flanagan, Stephen Billington, Brian Cox, Peter Mullan, Brendan Gleeson, James Cosmo, Angus Macfadyen, Catherine McCormack, Alun Armstrong, Mel Gibson, Sophie Marceau, Patrick McGoohan, James Robinson, Sean McGinley, Gerda Stevenson, Mhairi Calvey, Jeanne Marine, Sean Lawlor, Sandy Nelson, Alan Tall, Andrew Weir, Peter Hanly, Tam White, Ian Bannen, David Gant, Malcolm Tierney, Martin Murphy, Gerard McSorley, Bernard Horsfall, Richard Leaf, Liam Carney, Ralph Riach, Barry McGovern, John Kavanagh, Julie Austin, Alex Norton, Michael Byrne, William Scott-Masson, Dean Lopata, Donal Gibson, Jimmy Chisholm, John Murtagh, David McKay, Niall O'Brien, Martin Dempsey, Jimmy Keogh, Joe Savino, Mal Whyte, Paul Tucker, Graeme Ford, Greg Jeloudov, Rana Morrison, Jer O'Leary, Joanne Bett, Robert Paterson, Martin Dunne, Fred Chiverton, Daniel Coll, Bill Murdoch, Phil Kelly
IMDB: Braveheart (1995)
Sponsored Links
Ratings
User Rating:
IMDB Rating:
8.4
Reviews
ReelViews

-

Offeris an exhilarating, and occasionally touching, experience that has viewers leaving the theater caught up in an afterglow of wonder. These days, heros like William Wallace are as rare as motion picture displays of this high, uncompromising quality.

The New York Times

-

One of the most spectacular entertainments in years.

Newsweek

-

Looks like a true epic...even if it is both bloody and bloody long.

The Globe and Mail (Toronto)

-

Despite a formidable effort and occasional grace, there's something cowardly about Braveheart -- it's an aspiring giant with a diminutive soul.

Film.com

-

Gibson's raw energy and storytelling power in Braveheart are undeniable. If the film doesn't meet his ambitions, it's because he set the bar so high.
Braveheart (1995)
Enraged at the slaughter of Murron, his new bride and childhood love, Scottish warrior William Wallace slays a platoon of the local English lord's soldiers. This leads the village to revolt and, eventually, the entire country to rise up against English rule.