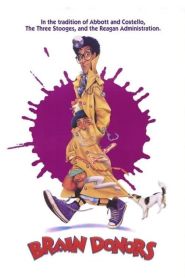 General Information
Glossary: B
Released Year: 1992
Runtime: 92 minutes
Genre: Comedy
Directors: Dennis Dugan
Writers: Pat Proft
Casts: John Turturro, Nancy Marchand, Bob Nelson, Mel Smith, Teri Copley, George de la Peña, John Savident, Spike Alexander, Juliana Donald
IMDB: Brain Donors (1992)
Sponsored Links
Ratings
User Rating:
IMDB Rating:
7.1
Reviews
San Francisco Chronicle

-

Like the best Marx Brothers films, Brain Donors has gags for the sake of gags. There's no pretense to plausibility. It's just layers and layers of jokes; some work, some don't. [18 April 1992, p.C3]

Chicago Tribune

-

A string of slapstick sequences at the end of Brain Donors...finally unleashes its potential for subversive hilarity. But the wait is long and not altogether compensated by Turturro's smooth delivery.

The New York Times

-

Brain Donors is a short, reasonably snappy attempt at nothing less than a present-day Marx Brothers comedy,

Miami Herald

-

The movie is quick and breezy for its first half-hour, then seems to grind down to a deadened pace: The actors' routines lose their freshness, and the nonexistent story line becomes apparent. The jokes get worse, too. Fortunately, at 80 minutes, the film is too brief to drag. [21 April 1992, p.E7]

Austin Chronicle

-

Turturro-Nelson-Smith come across as nothing more than three strangers with an out of synch, watered-down routine that flounders as a pale imitation of their hallowed predecessors.
Brain Donors (1992)
Three manic idiots; a lawyer, cab driver and a handyman team up to run a ballet company to fulfill the will of a millionaire. Stooge-like antics result as the trio try to outwit the rich widow and her scheming big-shot lawyer, who also wants to run the ballet.