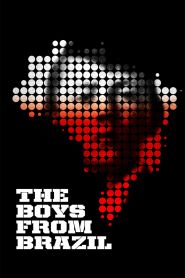 General Information
Glossary: T
Released Year: 1978
Runtime: 125 minutes
Genre: Drama, Thriller
Directors: Franklin J. Schaffner
Casts: Wolf Kahler, Laurence Olivier, Rosemary Harris, Bruno Ganz, Anne Meara, Denholm Elliott, Günter Meisner, Steve Guttenberg, John Rubinstein, Michael Gough, Wolfgang Preiss, Joachim Hansen, Carl Duering, Walter Gotell, Sky du Mont, Richard Marner, Gregory Peck, John Dehner, James Mason, Lilli Palmer, Uta Hagen, Linda Hayden, Jeremy Black, Prunella Scales, David Hurst, Georg Marischka
IMDB: The Boys from Brazil (1978)
Sponsored Links
Ratings
User Rating:
IMDB Rating:
7.0
Reviews
TV Guide Magazine

-

The film is compelling, albeit pretty silly in its elaborate "what if?" plot.

Empire

-

For much of its slowburn build there is a classy, intelligent thriller at work, something closer in tone to The Odessa File. Still, you must remain guarded to how over the top and quasi-horror events will finally turn.

Slant Magazine

-

Jerry Goldmsith's ominous score is reminiscent of his Oscar-winning work for The Omen but The Boys From Brazil is pure pomp and circumstance.

Variety

-

With two excellent antagonists in Gregory Peck and Laurence Olivier, The Boys from Brazil presents a gripping, suspenseful drama for nearly all of its two hours - then lets go at the end and falls into a heap.

Time Out London

-

The film is sunk by a series of preposterous performances. There are more phony German accents than in a prep school version of Colditz, and Levin's expert plotting is buried beneath an avalanche of lines like 'Vat are we goink to do?'.
The Boys from Brazil (1978)
Nazi hunter Ezra Lieberman discovers a sinister and bizarre plot to rekindle the Third Reich.