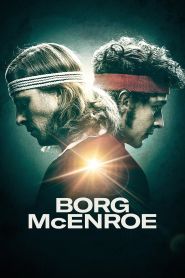 General Information
Glossary: B
Released Year: 2017
Runtime: 107 minutes
Genre: Biography, Drama, Sport
Directors: Janus Metz Pedersen
Casts: Björn Granath, Shia LaBeouf, Robert Emms, David Bamber, Colin Stinton, Roy McCrerey, Stellan Skarsgård, Ian Blackman, Bob Boudreaux, Anders Berg, Tuva Novotny, Janis Ahern, Scott Arthur, Jane Perry, Sverrir Gudnason, Leo Borg, Tom Datnow, Marcus Mossberg, Jackson Gann, Wille Glyt
IMDB: Borg McEnroe (2017)
Sponsored Links
Ratings
User Rating:
IMDB Rating:
7.0
Reviews
CineVue

-

With LaBeouf giving the performance of his career and a well-told story that hits all the right beats, Borg vs McEnroe may just well go down as a great tennis film.

Variety

-

When the big tennis finale arrives, Metz finds all sorts of ways to make the match interesting, blending urgent music, creative camera vantages and ridiculously hyperbolic announcer commentary to generate the desired tension. But the real reason we're invested is far simpler than that: Metz and his cast have made us care about both Borg and McEnroe by this point.

The Film Stage

-

It's a worthwhile document of tennis history and that of two of its greats.

The Playlist

-

Just as many sports movies before have done, and many more will after, Borg/McEnroe shines a light on the sacrifices necessary to achieve greatness. It's just a shame that the movie itself doesn't have the same ambition

ScreenCrush

-

Borg/McEnroe isn't a complete misfire, just more of a missed opportunity. Metz's artful direction, the taut final match and LaBeouf's rage-fueled antics are worth the ticket price alone. But it leaves you wondering how fantastic a full-on LaBeouf-McEnroe biopic could've been.
Borg McEnroe (2017)
The story of the world's greatest tennis icons – Björn Borg and his biggest rival, the young and talented John McEnroe – and their legendary duel during the 1980 Wimbledon tournament.