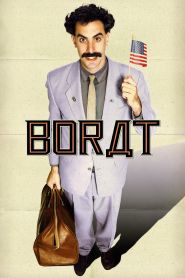 General Information
Glossary: B
Released Year: 2006
Runtime: 82 minutes
Genre: Comedy
Directors: Larry Charles
Casts: Sacha Baron Cohen, Luenell, Ken Davitian, Pamela Anderson, Bob Barr, Alan Keyes, Carole De Saram, Mitchell Falk, David Corcoran, Andre Darnell Myers, Jean-Pierre Parent, Chip Pickering
IMDB: Borat (2006) - IMDB
Sponsored Links
Ratings
User Rating:
IMDB Rating:
7.3
Reviews
Rolling Stone

-

You won't know what outrageous fun is until you see Borat. High-five!

Empire

-

Absurd, outrageous, gross, disturbing, insightful, and so funny it'll burst half the blood vessels in your face.

Entertainment Weekly

-

When Baron Cohen works without a net, he flies.

Variety

-

Uproariously funny mockumentary.

Village Voice

-

Indeed, the man who invented Borat is a masterful improviser, brilliant comedian, courageous political satirist, and genuinely experimental film artist. Borat makes you laugh but Baron Cohen forces you to think.
Borat (2006)
Kazakh journalist Borat Sagdiyev travels to America to make a documentary. As he zigzags across the nation, Borat meets real people in real situations with hysterical consequences. His backwards behavior generates strong reactions around him exposing prejudices and hypocrisies in American culture.