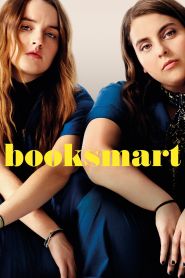 General Information
Glossary: B
Released Year: 2019
Runtime: 102 minutes
Genre: Comedy, Drama, Romance
Directors: Olivia Wilde
Writers: Sarah Haskins, Susanna Fogel, Katie Silberman, Emily Halpern
Casts: Jason Sudeikis, Kaitlyn Dever, Maya Rudolph, Lisa Kudrow, Skyler Gisondo, Will Forte, Molly Gordon, Jessica Williams, Billie Lourd, Beanie Feldstein, Deb Hiett, Eduardo Franco, Noah Galvin, Diana Silvers, Mason Gooding, Victoria Ruesga, Austin Crute, Michael Patrick O'Brien, Nico Hiraga, Kyle Samples, Stephanie Styles, Christopher Avila, Gideon Lang, Adam Krist, Ben Harris, John Hartman, Ellen Doyle
IMDB: Booksmart (2019)
Sponsored Links
Ratings
User Rating:
IMDB Rating:
7.5
Reviews
TheWrap

-

Booksmart is, by far, one of the most perfect coming-of-age comedies I have ever seen.

IndieWire

-

The best comedy of its kind since "Superbad," Wilde's slick, unpredictable romp can sometimes feel like several movies at once. This riotous, candy-colored celebration of sisterhood is so dense with anarchic developments it often threatens to collapse into itself, but avoids lingering on any gag long enough to let that happen.

The Hollywood Reporter

-

A hilarious, blazingly paced teen comedy.

Variety

-

Not since "Superbad" has a high school comedy so perfectly nailed how exhilarating it feels to act out at that age ... In this year's class of first-time feature directors, Wilde handily earns the title of Most Likely to Succeed.

New York Magazine (Vulture)

-

What makes Booksmart land so delightfully is Wilde's handle on exactly how seriously to take her neurotic heroines. ... Booksmart manages to be inclusive and progressive, without being precious about anything or sacrificing an ounce of humor. It feels at once like a huge moment for the teen movie genre, and also effortless, effortless enough to make one wonder what took so long.
Booksmart (2019)
Two academic teenage superstars realize, on the eve of their high school graduation, that they should have worked less and played more. Determined to never fall short of their peers, the girls set out on a mission to cram four years of fun into one night.