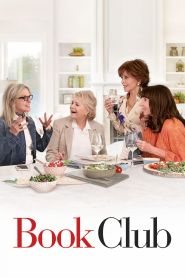 General Information
Glossary: B
Released Year: 2018
Runtime: 104 minutes
Genre: Comedy, Drama, Romance
Directors: Bill Holderman
Writers: Bill Holderman, Erin Simms
Casts: Diane Keaton, Andy García, Katie Aselton, Ed Begley Jr., Craig T. Nelson, Wallace Shawn, Mircea Monroe, Chet Grissom, Mary Steenburgen, Richard Dreyfuss, Alicia Silverstone, Candice Bergen, Don Johnson, Jane Fonda, Tommy Dewey, Brad Lee Wind, Matt Riedy, Joy Yao, Christopher Allen, James Adam Tucker, Sabina Friedman-Seitz, Adam Huber, Lili Bordán, Cole Gleason, Michael Gmur, Jamon Holmes, Caylie Rae Kalmbach, Ravi Kapoor, Tom G. McMahon, Marisa Chen Moller, Jonathan Ohye, John Shartzer, Prathibha R. Shetty, Raghuram Shetty, Matthew Smiley, Michael Soulema, Joey Stromberg
IMDB: Book Club (2018)
Sponsored Links
Ratings
User Rating:
IMDB Rating:
6.1
Reviews
Vanity Fair

-

Bergen is consistently the best part of Book Club: natural, dryly funny, and, in a non-pitying way, quietly heartbreaking.

Los Angeles Times

-

This movie is either in your wheelhouse or it's not, but for those looking forward to Book Club, it delivers. For what it is — a breezy bit of Nancy Meyers-like fantasy, featuring four beloved actresses talking about sex, baby — it's exceedingly enjoyable.

The Associated Press

-

Book Club has a script that's often so heavy on the corn — make that corn syrup — that it strains credulity and leaves you groaning. But then, darn it, suddenly it makes you tearful, with an unexpectedly genuine moment, or laugh out loud. It's a credit to the cast, and the cast only.

The New York Times

-

These women — Ms. Fonda, Ms. Keaton, Ms. Steenburgen and Ms. Bergen, that is — have nothing to prove. Each one brings enough credibility and charisma to Book Club to render its weaknesses largely irrelevant.

IndieWire

-

It's light entertainment meant to be shared, a big glass of summer fun that goes down easy.
Book Club (2018)
Four lifelong friends have their lives forever changed after reading Fifty Shades of Grey in their monthly book club.