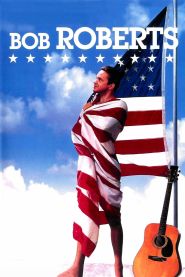 General Information
Glossary: B
Released Year: 1992
Runtime: 102 minutes
Genre: Comedy, Drama
Directors: Tim Robbins
Casts: Jack Black, Tim Robbins, Helen Hunt, Jeremy Piven, Gore Vidal, Ned Bellamy, Ray Wise, Brian Murray, Fred Ward, David Strathairn, Steve Pink, Susan Sarandon, Harry Lennix, Alan Rickman, John Cusack, Fisher Stevens, Mark McGrath, Peter Gallagher, Giancarlo Esposito, Bob Balaban, Tom Atkins, Robert Stanton, James Spader, Brent Hinkley, John Ottavino, Rebecca Jenkins, Kelly Willis
IMDB: Bob Roberts (1992)
Sponsored Links
Ratings
User Rating:
IMDB Rating:
7.0
Reviews
Variety

-

Both a stimulating social satire and, for thinking people, a depressing commentary on the devolution of the American political system.

Empire

-

An over-strung last act aside, this is funny, brilliant and sickening all at the same time.

Austin Chronicle

-

This Tim Robbins-helmed political satire about demogougery makes for an appropriate election-season re-release.

Chicago Sun-Times

-

I like Bob Roberts - I like its audacity, its freedom to say the obvious things about how our political process has been debased - but if it had been only about campaign tactics and techniques, I would have liked it more.

Washington Post

-

Filmed in the mock-documentary style pioneered by acknowledged mentor Robert Altman, it does for baby-kissing phonies what This Is Spinal Tap did for heavy metal poseurs.
Bob Roberts (1992)
Mock documentary about an upstart candidate for the U.S. Senate written and directed by actor Tim Robbins. Bob Roberts is a folksinger with a difference: He offers tunes that protest welfare chiselers, liberal whining, and the like. As the filmmakers follow his campaign, Robbins gives needle-sharp insight into the way candidates manipulate the media.