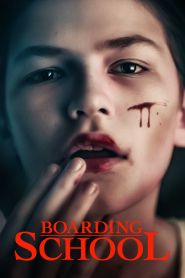 General Information
Glossary: B
Released Year: 2018
Runtime: 111 minutes
Genre: Horror
Directors: Boaz Yakin
Writers: Boaz Yakin
Casts: Lucy Walters, Will Patton, Tammy Blanchard, Samantha Mathis, Nadia Alexander, Sterling Jerins, Luke Prael
IMDB: Boarding School (2018)
Sponsored Links
Ratings
User Rating:
IMDB Rating:
5.7
Reviews
ReelViews

-

As horror movies go, Boarding School is worth seeing simply because it's different. Not weird, off-the-wall different like mother! or Hereditary, but different in a good way.

Los Angeles Times

-

Thrill-seekers should be warned that this is more a surreal, nightmarish and occasionally sexually explicit trip into an adolescent's psyche than a spook show. Yakin uses genre packaging for an intense, personal film, which many viewers may find discomfiting — if only because it's so hard to classify.

The Hollywood Reporter

-

Writer-director Boaz Yakin, who has directed everything from veteran movie stars to canine thesps in his career, has a harder time with child actors, eliciting performances that are uneven enough to attract attention to the script's weaker aspects.

Variety

-

Boarding School includes an odd mix of narrative elements within a classically Grimm child-endangerment scenario that would work best played as a modern fairy tale. Yet Yakin chooses to pace the film more slowly as a serious drama, which keeps the suspense from building real momentum and exacerbates the script's implausibilities.

RogerEbert.com

-

Boarding School has some edge by being told from a child's perspective, even though it's not for kids. A lot of great directors have told this kind of story, and while Guillermo Del Toro might be the most popular living one to do it, it's Louis Malle that comes to mind.
Boarding School (2018)
When troubled 12-year-old Jacob Felsen is sent away to boarding school, he enters every kid's worst nightmare: a creepy old mansion, deserted except for six other teenage misfits and two menacing and mysterious teachers. As events become increasingly horrific, Jacob must conquer his fears to find the strength to survive.