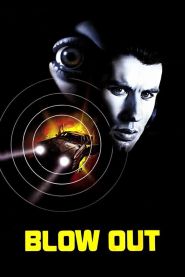 General Information
Glossary: B
Released Year: 1981
Runtime: 108 minutes
Genre: Mystery, Thriller
Directors: Brian De Palma
Casts: John Travolta, Roberto Lombardi, John Lithgow, Dennis Franz, Nancy Allen, Deborah Everton, John McMartin, J. Patrick McNamara, Roger Wilson, Peter Boyden, Curt May, John Aquino, Missy Cleveland, Lori-Nan Engler, Barbara Sigel, David DeFelice, Missy Crutchfield
IMDB: Blow Out (1981)
Sponsored Links
Ratings
User Rating:
IMDB Rating:
7.4
Reviews
Chicago Sun-Times

-

Best of all, this movie is inhabited by a real cinematic intelligence. The audience isn't condescended to. In sequences like the one in which Travolta reconstructs a film and sound record of the accident, we're challenged and stimulated: We share the excitement of figuring out how things develop and unfold, when so often the movies only need us as passive witnesses.

The Guardian

-

This is one of the finest films about the process of movie-making, a bleak, complex work that gives Travolta his most challenging role.

Slant Magazine

-

Blow Out is not known as one of Brian De Palma's horror movies, but of all his films, it's the one that feels most like a nightmare.

The New Yorker

-

On paper this movie, written and directed by Brian De Palma, might seem to be just a political thriller, but it has a rap intensity that makes it unlike any other political thriller...It's a great movie.

Entertainment Weekly

-

Deliciously twisty and twisted.
Blow Out (1981)
Jack Terry is a master sound recordist who works on grade-B horror movies. Late one evening, he is recording sounds for use in his movies when he hears something unexpected through his sound equipment and records it. Curiosity gets the better of him when the media become involved, and he begins to unravel the pieces of a nefarious conspiracy. As he struggles to survive against his shadowy enemies and expose the truth, he does not know whom he can trust.