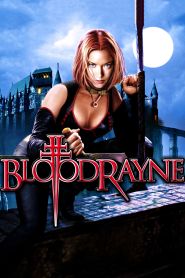 General Information
Glossary: B
Released Year: 2005
Runtime: 95 minutes
Genre: Action, Adventure, Fantasy, Horror
Directors: Uwe Boll
Writers: Guinevere Turner
Casts: Michael Madsen, Michelle Rodriguez, Ben Kingsley, Meat Loaf, Billy Zane, Udo Kier, Kristanna Loken, Michael Paré, Will Sanderson, Geraldine Chaplin, Matthew Davis
IMDB: BloodRayne (2005) - IMDB
Sponsored Links
Ratings
User Rating:
IMDB Rating:
2.9
Reviews
L.A. Weekly

-

There are all sorts of noteworthy people in this silly vampire epic, including acting greats Sir Ben Kingsley and Geraldine Chaplin, but the only artist this critic wants to heap praise upon is the regrettably unidentified Supervisor of Blood Splatter: Nice work, dude.

Los Angeles Times

-

The only thing left unsliced is the ham in BloodRayne, yet another video game adaptation by German genre specialist Uwe Boll and a movie with more fading - or faded - talent than an Italian basketball team.

The A.V. Club

-

With minimal flare and maximal gore, Boll simply delivers the turgid drama and incompetently staged action sequences that have made him the unstoppable Big Boss of the gaming community.

The Hollywood Reporter

-

Attention, Ben Kingsley (I mean, Sir Ben Kingsley): It's officially time to turn in your Oscar.

Premiere

-

Yet another ill-conceived big screen videogame adaptation.
BloodRayne (2005)
In the 18th century, a vampire escapes from the freak show she once participated in and teams up with a group of vampire slayers to kill the man who raped her mother. Storyline In the Eighteenth Century, Rayne is the half-human half-vampire Dhampir and the lead attraction in a carnival's freak-show in Romania. When she escapes, she meets a fortuneteller that tells that her mother was raped by the king of the vampires Kagan and she decides to destroy her father. In her journey for revenge, she meets Vladimir and Sebastian, the leaders of the fortress of vampire hunters Brimstone, and she joins their society. She seeks for powerful talismans to defeat Kagan, while the skilled warriors Vladimir and Sebastian train her to face the forces of Kagan and her human side falls in love with Sebastian. Written by Claudio Carvalho, Rio de Janeiro, Brazil