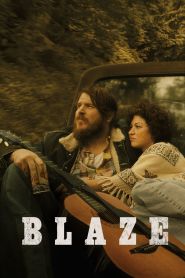 General Information
Glossary: B
Released Year: 2018
Runtime: 129 minutes
Genre: Drama, History, Music
Directors: Ethan Hawke
Writers: Ethan Hawke, Sybil Rosen
Casts: Sam Rockwell, Josh Hamilton, Kris Kristofferson, Wyatt Russell, Ritchie Montgomery, Alia Shawkat, Steve Zahn, Ethan Hawke, Richard Linklater, Robert Larriviere, Brett Beoubay, Edgar Arreola, Didi Costine, Charlie Sexton, Martin Covert, Kevin Wayne, Gloria Gonnillini, Steve Kish, Charles Barber, David Kallaway, Jeff Caperton, D. Taylor Loeb, Martin Bats Bradford, Rick LeCompte, Thomas Mark Higgins, Rey Reynaud, Victoria Hardway, Ben Dickey, Jenn Lyon, Penelope Costopoulos, Mitch Craft, Laura Costine, Kayla Carraway, Adam Brazy, Robert Casiello, Calen Curtis Edwards, Elliott Estelle, Leslie Bauden Fleming, Treylan Gonsoulin, Jency Griffin Hogan, Stephanie Davis Holmes
IMDB: Blaze (2018)
Sponsored Links
Ratings
User Rating:
IMDB Rating:
6.8
Reviews
Consequence of Sound

-

Dickey pivots between storyteller, philosopher, hopeless romantic, philanderer, asshole, loyal friend, and belligerent drunk all the way up until the very end.

Entertainment Weekly

-

Blaze isn't a flashy movie, which seems about right since Hawke's closest mentors and collaborators (Richard Linklater, for example) aren't known for their look-at-me personalities. Like the real-life Foley, they're storytellers and yarn spinners first and foremost, fame and fortune be damned.

The Hollywood Reporter

-

Foley's cult may never grow as big as his most ardent fans would like. But Hawke and Rosen and Dickey have given the man something better than posthumous record sales.

Variety

-

Blaze, which leaps around in time, telling Blaze Foley's story by zeroing in on a handful of disparate moments, is beautifully made. It's an organic slice of life — raw and untidy, deceptively aimless but always exploratory.

Film Threat

-

As far as romantic laments of starving artists go, Blaze is one of the better ones.
Blaze (2018)
A re-imagining of the life and times of Blaze Foley, the unsung songwriting legend of the Texas Outlaw Music movement.