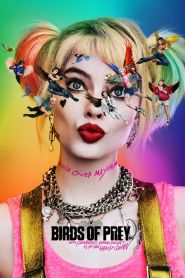 General Information
Glossary: B
Released Year: 2020
Runtime: 109 minutes
Genre: Action, Comedy, Crime
Directors: Cathy Yan
Casts: Mary Elizabeth Winstead, Rosie Perez, Dana Lee, Matthew Willig, Daniel Bernhardt, Chris Messina, Bojana Novaković, Simon Rhee, Ewan McGregor, François Chau, Ali Wong, Jurnee Smollett, Steven Williams, Robert Catrini, David Bianchi, Margot Robbie, Michael Masini, Eddie Alfano, Charlene Amoia, Ella Jay Basco, Miyuki Matsunaga, Anna Mikami, Paul Lasa, Ella Mika, Derek Wilson, Andy Hoff, Bruno Oliver, Judy Kain, Rj Wayne
IMDB: Birds of Prey (and the Fantabulous Emancipation of One Harley Quinn) (2020)
Sponsored Links
Ratings
User Rating:
IMDB Rating:
6.4
Reviews
TheWrap

-

The film's various elements work in wonderful concert to keep the momentum brisk but still grounded in a stylized version of human empathy, from Jay Cassidy and Evan Schiff's whiz-bang editing to Daniel Pemberton's consciously grandiose score. The cast makes each moment count.

Entertainment Weekly

-

Does the movie's pop-feminist message need to be as consistently, cartoonishly violent as it is? Almost definitely not. But in a world gone mad, the catharsis of Prey's twisted sisterhood doesn't just read as pandemonium for its own sake; it's actually pretty damn sweet.

Screen Rant

-

With a wicked sense of humor and exhilarating action, Birds of Prey is fierce, fun and a total blast - and an empowering girl power superhero romp.

Total Film

-

A bold, entertaining riot that captures the manic energy of its lead character and ushers in a gang you'll want to join.

USA Today

-

While Birds of Prey is all about that group dynamic, its resident Oscar nominee sparkles as the cuckoo crazy pants center of attention who's the batty wind beneath their wings.
Birds of Prey (and the Fantabulous Emancipation of One Harley Quinn) (2020)
After her breakup with the Joker, Harley Quinn joins forces with singer Black Canary, assassin Huntress, and police detective Renee Montoya to help a young girl named Cassandra, who had a hit placed on her after she stole a rare diamond from crime lord Roman Sionis.