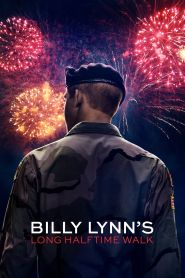 General Information
Glossary: B
Released Year: 2016
Runtime: 113 minutes
Genre: Drama, War
Directors: Ang Lee
Casts: Kristen Stewart, Deirdre Lovejoy, Tim Blake Nelson, Marion Guyot, Gregory Alan Williams, Ric Reitz, Vin Diesel, Chris Tucker, John Lobato, Garrett Hedlund, Paul Barlow Jr., Joel Rogers, Mason Lee, Shaun Michael Lynch, Steve Martin, Steve Warren, Beau Knapp, David Ramsey, John Archer Lundgren, Christina Michelle Williams, Bruce McKinnon, Ben Platt, Kenneth Tipton, Matthew Brady, Ricky Muse, Ricky Muse, Makenzie Leigh, Alan Gilmer, Christopher Matthew Cook, Astro, Katie Deal, Bo Mitchell, Tatom Pender, Alexandra Bartee, Genevieve Adams, Fred Galle, Jordanne Calvin, Gregory Fears, Marc Inniss, Kristin McKenzie, Ismael Cruz Córdova, Walter Hendrix III, Kristin Erickson, Claire Bronson, Sherod Ogletree, Deena Dill, Brian Neal, Jordan Verroi, Matt Mercurio, Matthew Barnes, Jesse Yarborough, Arturo Castro, J.J. Watt, Mansour Badri, Xavier Cortes, R.W. Parka, Jonathan Yaskoff, Ruben Vidal, Afsheen Olyaie, Laura Lundy Wheale, Adrienne Ballenger, Mason Pike, Francis Dobrisky, Giovanni Rodriguez, Joe Alwyn, Barney Harris, Allen Daniel, Randy Gonzalez, Austin McLamb, Tommy McNulty, Markina Brown, Eric Kan, Dana Barrett, Richard Sherman, Brad Mills, Holly Morris, Andy Glen, Brandin Jenkins, Chesta Drake, Cooper Andrews, Katrina Pettiford, Erin Moore, Elizabeth Chestang, Kellie Pickler, Fajer Al-Kaisi, Antonio Badrani, Badia Obaid, Leila Kadiri, Azim Rizk, Jay Peterson, Zaydun Khalaf, Phil Armijo, Stevie Baggs Jr., Ashley Lyn Blair, Brooke Borba, Bricine Brown, Amanda Burke Buczek, Lucie Carroll, Todd Chapman, Chuck Clark, Alex Coker, Jameson Jamey Copeland, Erin Dangler, Patrick Darcey, Sydney Durso, Angela Everhart, DeRon Ford, Courtland Fuller, G-Rod, Jas Hardy, De'Adrian Harmon, Jon Hartley, Robert Hendren, Danni Heverin, Dennis Hill, Terayle Hill, Geoffrey Howard, Billy James, Dale Anthony Jennings, Racquel Bianca John, Matthew Jolly, Kendall Kiker, Brian Kim, Alex Kramer, Avery Laraki, Roy Larsen, Adrian Lockett, Shannon Long, Luke Loveless, Zamadia Lyles, Eric Maldonado, Asia Diamond Mason, Ronny Mathew, Trey McGriff, Jock McKissic, Dana Clark McPherson, Gary Miller, Richard Molina, Michael Montgomery, Richard Morava, James Nass, Tommy O'Brien, Gretchen Pleshaw, George Pringle, Moneca S. Reid, Shuntel Renay, Chan Ta Rivers, Marlene B. Russell, Kourtney Shales, Bill Stewart, Calvin Swanigan, Jack Teague, Corey Jason Thomas, Tad Thompson, Sarai Tinck, Erick Wofford, Justin Wright, Brian Wyatt
IMDB: Billy Lynn's Long Halftime Walk (2016)
Sponsored Links
Ratings
User Rating:
IMDB Rating:
6.3
Reviews
Variety

-

There's a grand paradox at work in Billy Lynn's Long Halftime Walk. The film isn't simply a technological experiment; it's also a highly original, heartfelt, and engrossing story. And part of the power of it lies in the way that those two things are connected.

The Hollywood Reporter

-

An absorbing character study, even if it's ultimately not one that justifies its much-vaunted technological advances.

IndieWire

-

So long as "Billy Lynn" remains focused on his ambiguous mindset, it remains an engaging, somewhat theatrical character study. But Lee's ongoing need to complicate his approach yields a movie trapped between conventional narrative tropes and questionable attempts to deliver something that registers on a more visceral level.

Slant Magazine

-

It does astounding work animating the mind of its young soldier, but it runs into technical difficulties whenever it tries to grasp the bigger picture.

Screen International

-

It's a radiant debut for young newcomer Joe Alwyn, who plays a Texan war hero uneasy in his own land. It's a shakier curtain-raising for Lee's ambitious weaponising of new technologies.
Billy Lynn's Long Halftime Walk (2016)
19-year-old Billy Lynn is brought home for a victory tour after a harrowing Iraq battle. Through flashbacks the film shows what really happened to his squad - contrasting the realities of war with America's perceptions.