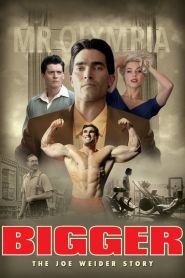 General Information
Glossary: B
Released Year: 2018
Runtime: 107 minutes
Genre: Drama
Directors: George Gallo
Writers: George Gallo, Brad Furman, Ellen Brown Furman, Andy Weiss
Casts: Robert Forster, Kevin Durand, Tom Arnold, Max Martini, Colton Haynes, DJ Qualls, Julianne Hough, Steve Guttenberg, Tyler Hoechlin, Jason Burkey, Aneurin Barnard, Victoria Justice, Brian Brightman, Lucie Carroll, Calum Von Moger, Christian Finlayson, Nadine Lewington, Jared Motyl, Nicole Weider, Diane Sorrentino, Miles Emmons, Sterling Hurst
IMDB: Bigger (2018)
Sponsored Links
Ratings
User Rating:
IMDB Rating:
6.4
Reviews
Original-Cin

-

The good in the movie is overwhelmed by its by-the-numbers approach to its story. There's not enough in Bigger to make a fan out of non-fans of body building, and there's enough wrong to turn off the real fans.

RogerEbert.com

-

As relatively handsomely mounted as this movie is, it's also kind of a shambles. Had I not read a press release about it prior to attending its New York screening, I would not know who the damn thing was even about until a whole half-hour in.

The Globe and Mail (Toronto)

-

A rags-to-riches tale that is inspirational in the most sentimental and predictable of fashions, Bigger squanders most of the potential that comes with dissecting such an underexplored world as the nascent body-building industry. At least he nails the casting, with the intimidatingly fit Tyler Hoechlin and Aneurin Barnard as the Weider brothers, the charismatic Julianne Hough as Joe's wife.

TheWrap

-

Gallo, whose direction has an undeniable paciness but a numbing competency, seems eager to check things off a list and move on.

Los Angeles Times

-

Director George Gallo, taking a cue from his 1991 film, "29th Street," romanticizes everything in a nostalgic glow, but without a sturdier script featuring fully dimensional characters at his disposal, the performances prove to be as unconvincing as their ethnic accents and period wigs.
Bigger (2018)
The inspirational tale of the grandfathers of the fitness movement as we now know it, Joe & Ben Weider. Battling anti-Semitism, racism and extreme poverty, the brothers beat all odds to build an empire & inspire future generations.