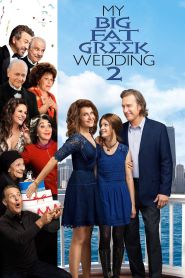 General Information
Glossary: M
Released Year: 2016
Runtime: 94 minutes
Genre: Comedy, Romance
Directors: Kirk Jones
Writers: Nia Vardalos
Casts: Alex Wolff, Gia Carides, Kathryn Greenwood, Jeff White, Lainie Kazan, Andrea Martin, John Corbett, Christopher D. Lindsay, Rita Wilson, Gerry Mendicino, Sam Moses, Tannis Burnett, Alec Stockwell, Kathryn Haggis, Nia Vardalos, Michael Constantine, Louis Mandylor, Ian Gomez, Kolton Stewart, Elena Kampouris, Dave Reachill, John Stamos, Maxillian Grimm, Robert Bellissimo, Lauren Saarimaki, Constantine Vardalos, Julia Gartha, Maria Vacratsis, Chrissy Paraskevopoulos, Ashleigh Rains, Ethan Pugiotto, Theodore Paraskevopoulos, Roger Wong, Aniela Kurylo, Teresa Pavlinek, Hershel Blatt, Harper Gunn, Peter Tharos
IMDB: My Big Fat Greek Wedding 2 (2016) - IMDB
Sponsored Links
Ratings
User Rating:
IMDB Rating:
6.0
Reviews
TheWrap

-

It's sweet, just like the original movie. It was faint praise then, and it still is.

The Hollywood Reporter

-

That it all works to the extent that it does is due to its undeniably sweet depiction of a close-knit extended family whose members truly care for and help each other. It's cinematic wish fulfillment in this era of broken families and far-off relatives who keep in touch via social media.

Movie Nation

-

My Big Fat Greek Wedding 2 is a veritable feast of low-hanging fruit. The laughs are obvious, we see them coming a mile away.

Entertainment Weekly

-

The winking ethnic jokes weren't all that revolutionary in the first film, and this time around, they feel even more stale.

Variety

-

Every bit as sitcom-ish and saccharine as its predecessor, but considerably less distinctive.
My Big Fat Greek Wedding 2 (2016)
The continuing adventures of the Portokalos family. A follow-up to the 2002 comedy, "My Big Fat Greek Wedding."