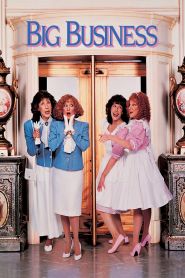 General Information
Glossary: B
Released Year: 1988
Runtime: 97 minutes
Genre: Comedy
Directors: Jim Abrahams
Casts: Seth Green, Barry Primus, Fred Ward, Deborah Rush, Edward Herrmann, Lewis Arquette, Leo Burmester, Joe Grifasi, Lily Tomlin, John Vickery, Bette Midler, Daniel Gerroll, J.C. Quinn, Nicolas Coster, Michael Gross, Patricia Gaul, Michele Placido
IMDB: Big Business (1988)
Sponsored Links
Ratings
User Rating:
IMDB Rating:
6.4
Reviews
The New York Times

-

Big Business, which, though it never quite delivers the boffo payoff, is a most cheerful, very breezy summer farce, played to the hilt by two splendidly comic performers.

Los Angeles Times

-

Like a sensational party the night before, Big Business may not bear the closest scrutiny in the cold light of day, but it gives an irresistible glow at the time. And when it gets on a roll, it's a movie with more wit to its lines and a more pungent array of them than much of the mishmash that has passed as Bette Midler's Greatest Movie Hits. [10 Jun 1988, p.1]

Time Out

-

Midler gets to play her vulgar, trashy self twice over, Tomlin introduces a little comic variety as the gutsy blue collar worker and the drippy sister, and Abrahams handles the mechanical plot with skill, if not style. The frenetic fun reduces everyone to a cipher; it's difficult to care about any of them.

Chicago Sun-Times

-

If there's anything worse than a long, slow, boring buildup to a payoff, it's the buildup without the payoff. This movie doesn't feel finished.

Washington Post

-

This classic comedy of errors is over-structured by cousin-writers Dori Pierson and Marc Rubel and mechanically laid out by director Jim Abrahams.
Big Business (1988)
In the 1940s in the small town of Jupiter Hollow, two sets of identical twins are born in the same hospital on the same night. One set to a poor local family and the other to a rich family just passing through. The dizzy nurse on duty accidentally mixes the twins unbeknown to the parents. Our story flashes forward to the 1980s where the mismatched sets of twins are about to cross paths.