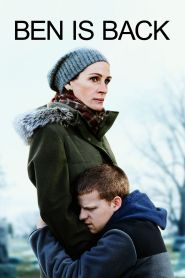 General Information
Glossary: B
Released Year: 2018
Runtime: 103 minutes
Genre: Drama
Directors: Peter Hedges
Writers: Peter Hedges
Casts: Kathryn Newton, Michael Esper, Courtney B. Vance, Julia Roberts, Lucas Hedges, Teddy Cañez, Emily Cass McDonnell, Alexandra Park, David Zaldivar, Rachel Bay Jones, Marquise Vilson, Mia Fowler, Melissa van der Schyff, Jakari Fraser, Nathalie Carvalho, Candace M. Smith
IMDB: Ben Is Back (2018)
Sponsored Links
Ratings
User Rating:
IMDB Rating:
6.8
Reviews
Screen International

-

Julia Roberts blasts through this family reunion drama-turned-thriller with one of the most forceful performances of her career.

TheWrap

-

In this time for movies about teens in trouble, it's the mom in this one who packs the biggest punch.

The New York Times

-

Ben Is Back is really Holly's story, and notwithstanding the all-around excellence of the cast, it's very much Roberts's movie. This isn't a matter of ego or showboating. On the contrary, what is so moving and effective about Roberts's work here is her shrewd subversion of her long-established persona.

IndieWire

-

Beneath its overworked plot — and a Julia Roberts performance that toes the line between maternal desperation and movie-screen broadness — this is a tender and knowing story about the salvation that an addict can find within their family, and the toll that addiction can take on it.

The Hollywood Reporter

-

The film is aware of the weight of its subject but loath to behave like an "important" film — focusing instead on the specificity of one sick young man and the family that loves and fears him in almost equal measure.
Ben Is Back (2018)
19-year-old Ben Burns unexpectedly returns home to his family's suburban home on Christmas Eve morning. Ben's mother, Holly, is relieved and welcoming but wary of her son staying clean. Over a turbulent 24 hours, new truths are revealed, and a mother's undying love for her son is tested as she does everything in her power to keep him safe.