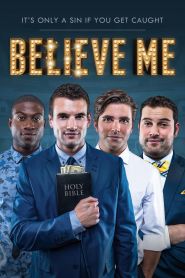 General Information
Glossary: B
Released Year: 2014
Runtime: 93 minutes
Genre: Comedy, Drama
Directors: Will Bakke
Casts: Miles Fisher, Christopher McDonald, Nick Offerman, Johanna Braddy, Alex Russell, Sinqua Walls, Zachary Knighton, Max Adler, David Christopher, Lecrae Moore, Kat Alexander, Maria Engler, Rhett James, Alysia Lucas, Kristin McKenzie
IMDB: Believe Me (2014)
Sponsored Links
Ratings
User Rating:
IMDB Rating:
4.9
Reviews
The New York Times

-

The film's congeniality, however, in no way dulls its humor or the sharpness of its observations.

McClatchy-Tribune News Service

-

If it's not convincing as either a find-one's-faith parable or clever spoof of pop Christianity, at least it's relevant.

Village Voice

-

The movie loses its zip as it becomes more dramatic.

The Dissolve

-

Will Bakke's Believe Me is a textbook lesson in how glossy cinematography and an appealing cast can compensate for an undercooked script.

The Hollywood Reporter

-

Neither an inspirational faith-based film nor an attack on Christian dogma, Will Bakke's comedy/drama Believe Me plays like a religious variation of "Risky Business" minus the sex.
Believe Me (2014)
Desperate, broke, and out of ideas, four college seniors start a fake charity to embezzle money for tuition.