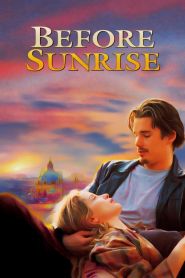 General Information
Glossary: B
Released Year: 1995
Runtime: 101 minutes
Genre: Drama, Romance
Directors: Richard Linklater
Casts: Haymon Maria Buttinger, Ethan Hawke, Julie Delpy, John Sloss, Erni Mangold, Andrea Eckert, Hanno Pöschl, Karl Bruckschwaiger, Tex Rubinowitz, Dominik Castell, Harold Waiglein, Bilge Jeschim, Kurti, Hans Weingartner, Liese Lyon, Peter Ily Huemer, Otto Reiter, Hubert Fabian Kulterer, Branko Andric, Constanze Schweiger, Alexandra Seibel, Georg Schöllhammer, Christian Ankowitsch, Wilbirg Reiter, Barbara Klebel, Wolfgang Staribacher, Wolfgang Glüxam
IMDB: Before Sunrise (1995)
Sponsored Links
Ratings
User Rating:
IMDB Rating:
8.1
Reviews
ReelViews

-

Before Sunrise speaks as much to the mind as to the heart, and much of what it says is likely to strike a responsive chord -- a rare and special accomplishment for any motion picture.

San Francisco Chronicle

-

It's a lovely and wistful celebration of youth, time and moments of connection -- and about the experience of living in the midst of a simple, perfect day that you know you'll remember for the rest of your life.

Chicago Reader

-

Richard Linklater goes Hollywood (1995) -- triumphantly and with an overall intelligence, sweetness, and romantic simplicity that reminds me of wartime weepies like The Clock.

Austin Chronicle

-

Watching and listening to these two is a charming experience; their conversation has the ring of veracity, and rarely does the viewer's interest stray.

Washington Post

-

Though Linklater allows the movie to wander, he never allows the pace to slacken, and more often than not he finds some unexpected bit of found poetry or cultural kitsch to make the digressions worthwhile.
Before Sunrise (1995)
On his way to Vienna, American Jesse meets Céline, a student returning to Paris. After long conversations forge a surprising connection between them, Jesse convinces Celine to get off the train with him in Vienna. Since his flight to the U.S. departs the next morning and he has no money for lodging, they wander the city together, taking in the experiences of Vienna and each other.