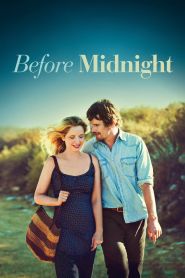 General Information
Glossary: B
Released Year: 2013
Runtime: 108 minutes
Genre: Drama, Romance
Directors: Richard Linklater
Writers: Ethan Hawke, Julie Delpy, Richard Linklater
Casts: Ethan Hawke, Julie Delpy, John Sloss, Seamus Davey-Fitzpatrick, Jennifer Prior, Charlotte Prior, Xenia Kalogeropoulou, Walter Lassally, Ariane Labed, Yiannis Papadopoulos, Athina Rachel Tsangari, Panos Koronis, Enrico Focardi, Manolis Goussias, Anouk Servera, Yota Argyropoulou, Serafeim Radis
IMDB: Before Midnight (2013)
Sponsored Links
Ratings
User Rating:
IMDB Rating:
7.9
Reviews
IndieWire

-

Before Midnight is the rare cinematic achievement that implicates alert viewers in its mission to understand the mysteries of intimate connections.

The Hollywood Reporter

-

The work Richard Linklater and company started in 1995's Before Sunrise retains a clarity of spirit undimmed by 18 years.

Variety

-

Honoring all that was memorable about its forebears while taking the story to new depths of catharsis, Before Midnight stands as a unique and uniquely satisfying entry in what has shaped up to be an outstanding screen trilogy

Film.com

-

Before Midnight manages to be an emotionally astute and tremendously enjoyable conclusion to this rather improbable trilogy.

Time Out

-

That's the subtle level this movie operates on, and by the time it arrives at its powerhouse climax, a ruinous argument in a hotel room where all lingering doubts are finally and furiously outed, there's nowhere left for them to ramble. They're pinned down and have to improvise, but this glorious movie has infinite space to roam.
Before Midnight (2013)
We meet Jesse and Celine nine years on in Greece. Almost two decades have passed since their first meeting on that train bound for Vienna.