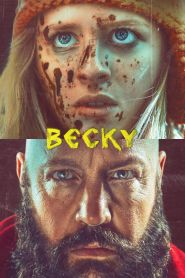 General Information
Glossary: B
Released Year: 2020
Runtime: 93 minutes
Genre: Action, Horror, Thriller
Directors: Cary Murnion, Jonathan Milott
Writers: Ruckus Skye, Lane Skye, Nick Morris
Casts: Robert Maillet, Joel McHale, Kevin James, Ryan McDonald, Amanda Brugel, Lulu Wilson, John D. Hickman, Michael Dara, Chandra Michaels, James McDougall, Gage Graham-Arbuthnot, Isaiah Rockcliffe
IMDB: Becky (2020)
Sponsored Links
Ratings
User Rating:
IMDB Rating:
5.7
Reviews
Film Threat

-

Becky is a thrilling game of cat-and-mouse that leaves you unsure if the good guy is really that good at all. It's funny at parts, shocking in parts, but mostly it's just a great thriller that just so happens to have a 13-year-old girl as the heroine.

The Globe and Mail (Toronto)

-

With its gore and brutality and general nihilistic sensibility – not to mention an eyeball scene that would make Bunuel blush – Becky is not fit for 95 per cent of the populace, especially those who might innocently click on the title after recognizing the star of their favourite CBS sitcom. But for those who like to get dirty with this kind of scuzzy chaos, then this is near-perfect slimeball cinema.

Variety

-

Wilson's nimble half-brat, half-she-devil performance is key to our buying the basic premise, aided by solid supporting cast contributions. James grows less intimidating the more dialogue he's given in an otherwise trim script by marital duo Ruckus and Lane Skye.

The Hollywood Reporter

-

Becky tends to work best when it revels in the blood-splattered set pieces of its script (written by Ruckus Skye, Lane Skye and Nick Morris), going that extra mile and a half in the gore department (special effects makeup was by Karlee Morse) to create some truly disgusting moments, albeit ones that are laced with a grim sense of humor.

San Francisco Chronicle

-

Becky is no "Straw Dogs." Really, it's mostly just a nasty genre movie with some gruesome scenes of violence. But it's served well by a script that doesn't merely embrace the gimmick of a pubescent girl fighting bad guys — it takes it seriously enough to explore it, at least a little.
Becky (2020)
A teenager's weekend at a lake house with her father takes a turn for the worse when a group of convicts wreaks havoc on their lives.