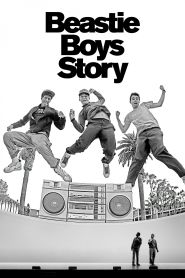 General Information
Glossary: B
Released Year: 2020
Runtime: 119 minutes
Genre: Documentary, Music
Directors: Spike Jonze
Writers: Spike Jonze, Michael Diamond, Adam Horovitz
Casts: Ben Stiller, David Cross, Spike Jonze, Steve Buscemi, Bill Hader, Michael Kenneth Williams, Michael Diamond, Adam Horovitz, Adam Yauch, Beastie Boys
IMDB: Beastie Boys Story (2020)
Sponsored Links
Ratings
User Rating:
IMDB Rating:
7.9
Reviews
The Playlist

-

It is, in essence, a two-hour curtain call, a celebration of not only their music but their friendship, and a chance for the duo to have the last word on their legacy.

Uproxx

-

This is a film that's hilarious, sad, and for some reason features an entire montage set to Dolly Parton's "9 to 5."

IndieWire

-

Much of the movie operates as a playful nostalgia trip, and at two hours that's asking a lot, but Beastie Boys Story is also imbued with a moving sense of purpose: The story doubles as a tribute to beloved multi-hyphenate Adam "MCA" Yauch, whose 2012 death from cancer catalyzed the dissolution of the group.

Consequence of Sound

-

To be sure, the concept of Spike Jonze directing a Beastie Boys documentary conjures up flashier results than this. But taking it for what it is, Beastie Boys Story remains an entertaining, insightful, and unexpectedly fun look back at three of hip-hop's most iconic voices.

The Guardian

-

This film is a time capsule of the 1980s: an era that was crass and excessive in so many ways, but now seems weirdly exotic.
Beastie Boys Story (2020)
A live documentary experience focusing on the history and legacy of the Beastie Boys and its intimate, personal story.