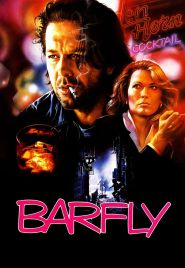 General Information
Glossary: B
Released Year: 1987
Runtime: 100 minutes
Genre: Comedy, Drama, Romance
Directors: Barbet Schroeder
Casts: Mickey Rourke, Ronald G. Joseph, Joe Unger, Roberta Bassin, Alice Krige, Pruitt Taylor Vince, Sandy Martin, Faye Dunaway, Frank Stallone, Jack Nance, J.C. Quinn, Gloria LeRoy
IMDB: Barfly (1987) - IMDB
Sponsored Links
Ratings
User Rating:
IMDB Rating:
7.3
Reviews
Chicago Sun-Times

-

A truly original American movie, a film like no other, a period of time spent in the company of the kinds of characters Saroyan and O'Neill would have understood, the kinds of people we try not to see, and yet might enjoy more than some of our more visible friends.

Los Angeles Times

-

This seedy Barfly is beautifully written, acted and directed. It may be full of dank desire, wasted love and jesting misery--but it blooms. Whatever its flaws, it does something more films should do: It opens up territory, opens up a human being.

TV Guide Magazine

-

Not a film for everyone, but the unrelieved squalor of Barfly offers its own peculiar fascinations.

The New York Times

-

Though it's set within the world of the seriously down-and-out in Los Angeles and is about people who are at the end of their ropes, Barfly somehow manages to be gallant and even cheerful. It has an admirably lean, unsentimental screenplay by Charles Bukowski, the poet laureate of America's misbegotten.

Washington Post

-

A highly watchable slice-of-low-life entertainment. If this isn't her best role, it's Dunaway's gutsiest.
Barfly (1987)
Downtrodden writer Henry and distressed goddess Wanda aren't exactly husband and wife: they're wedded to their bar stools. But they like each other's company- and Barfly captures their giddy, gin-soaked attempts to make a go of life on the skids.