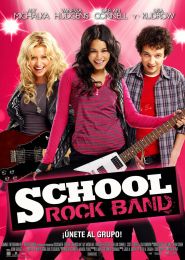 General Information
Glossary: B
Released Year: 2009
Runtime: 111 minutes
Genre: Comedy, Drama, Family, Music, Romance
Directors: Todd Graff
Casts: Scott Porter, David Bowie, Vanessa Hudgens, Ryan Donowho, Lisa Kudrow, Aly Michalka, Todd Graff, Gaelan Connell, Charlie Saxton, Derek Cox-Berg, Elvy Yost, Cassidy Johnson, Bryan Chafin, Blair Bomar, Farah White, Tim Jo, Lisa Chung, J.W. Wright, Casey Williams, Maggie Maye, Zach Thatcher, Matt Hensarling, Landon Henninger, Nathan McCray, Kai Roach, Chris Copeland, James Hairston, Chance Morgan, Matt Moody, Marley Whistler, Wyatt Adams, Nikka Graff Lanzarone, Bobby Bones, Jonathan Rice, Ryan Ciardo, Will Johnson, Rebecca Petro, Valin Zamarron, Candice Jackson, Manjeri Krishna, Benjamin Kessler, Andrew Glen Rector, Juan Lopez, Evan Butts, Chris Ritchie, Aaron Lemke, Krystal Morton, Julian Riano, Joey Olivares, Nadia Sahari, Joshua Montoya, Michael Cuomo
IMDB: Bandslam (2009)
Sponsored Links
Ratings
User Rating:
IMDB Rating:
6.3
Reviews
The Hollywood Reporter

-

Had Cameron Crowe and the late John Hughes collaborated on a movie populated by Disney Channel superstars, the result might have looked and sounded a lot like Todd Graff's Bandslam. And that's meant as a compliment.

Variety

-

High school musicals have their scrappiest number in Bandslam, an awkward, earnest, almost irresistible indie.

Entertainment Weekly

-

Misfit teens in the process of forming a high school band learn life lessons and raise their goblets of rock. But there's enough of a strong filmmaking backbeat in Bandslam to carry the movie's light tune.

Chicago Sun-Times

-

This isn't a breakthrough movie, but for what it is, it's charming, and not any more innocuous than it has to be.

Village Voice

-

Todd Graff's film is written with a desperate cleverness that clamors for attention over the brainless against-the-odds music-competition plot.
Bandslam (2009)
A high school social outcast and the popular girl bond through a shared love of music.