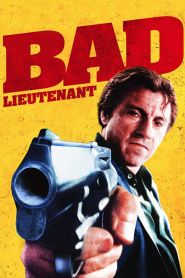 General Information
Glossary: B
Released Year: 1992
Runtime: 91 minutes
Genre: Crime, Drama
Directors: Abel Ferrara
Casts: Harvey Keitel, Paul Calderon, Bianca Hunter, Vincent Laresca, Stella Keitel, Leonard L. Thomas, Frankie Thorn, Peggy Gormley, Victor Argo, Paul Hipp, Zoë Lund, Robin Burrows, Victoria Bastel, Brian McElroy, Frankie Acciarito, Dana Dee, Anthony Ruggiero
IMDB: Bad Lieutenant (1992)
Sponsored Links
Ratings
User Rating:
IMDB Rating:
7.1
Reviews
Chicago Sun-Times

-

It is not a "dirty movie," and in fact takes spirituality and morality more seriously than most films do. And in the bad lieutenant, Keitel has given us one of the great screen performances in recent years.

Entertainment Weekly

-

For all its scenes of degradation (five minutes of which have been shorn for an R-rated cut; we recommend the original NC-17 version), Bad Lieutenant is a deeply moral movie. It's not pretty-it's not even very realistic-but it does matter.

Variety

-

Abel Ferrara's uncompromising Bad Lieutenant is a harrowing journey observing a corrupt NY cop sink into the depths, with an extraordinary and uninhibited performance by Harvey Keitel in the title role.

Austin Chronicle

-

What it lacks in charm, it compensates for with audacity and single-mindedness of vision.

Chicago Tribune

-

For Keitel, this is the Scorsese film that Scorsese never gave him, in which he gets to elbow Robert De Niro away from center stage and take the best part for himself. He seizes the opportunity: Bad Lieutenant immediately becomes one of the defining roles of his career. [22 Jan 1993, Friday, p.C]
Bad Lieutenant (1992)
While investigating a young nun's rape, a corrupt New York City police detective, with a serious drug and gambling addiction, tries to change his ways and find forgiveness.