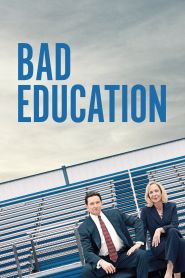 General Information
Glossary: B
Released Year: 2019
Runtime: 108 minutes
Genre: Comedy, Drama
Directors: Cory Finley
Casts: Alex Wolff, Hugh Jackman, Ray Romano, Robert 'Toshi' Kar Yuen Chan, Allison Janney, Gino Cafarelli, Jeremy Shamos, Welker White, Stephanie Kurtzuba, Victor Verhaeghe, Finnerty Steeves, Peter Appel, Pat Healy, Larry Romano, Kathrine Narducci, Annaleigh Ashford, Darlene Violette, John Scurti, Steve Routman, Stephen Spinella, Jimmy Tatro, Catherine Curtin, Giuseppe Ardizzone, Doris McCarthy, Hari Dhillon, Kayli Carter, Jorge Chapa, Brent Langdon, Justin Swain, Geraldine Viswanathan, Rafael Casal, Ray Abruzzo, Calvin Coakley, Sung Yun Cho, Laura Patinkin, Tia DeShazor, Brian Sgambati, Natasha Goss, Jane Brockman, Madeleine Grace Pace, Dina Pearlman, Michael Jay Henry, Rene Ojeda, Miriam Silverman, Will Meyers, Jane Ackermann, Adriana Callori, Lauren Yaffe
IMDB: Bad Education (2019)
Sponsored Links
Ratings
User Rating:
IMDB Rating:
7.1
Reviews
Variety

-

Bad Education doesn't shy away from the humor of the situation, but it doesn't go for the cheap laughs either.

Vanity Fair

-

Bad Education (which honestly isn't a great title for this movie) is an arresting, nuanced depiction of insatiable want, of the bitter fact that reaching for things is often more instinctual, more human, than holding on to what we've already got.

IndieWire

-

However disappointing it might be that Bad Education is too delicate (and true) to really go wild and let Finley indulge in the flamboyance that made "Thoroughbreds" such a wicked treat, this is a young director who can see the whole chess game 20 moves in advance.

The Playlist

-

Jackman shines, teasing us with suggestions of just how deep his performance runs.

The A.V. Club

-

The strength of Jackman's performance is that he hoodwinks us with his decency.
Bad Education (2019)
A superintendent of a school district works for the betterment of the student's education when an embezzlement scheme is discovered, threatening to destroy everything.