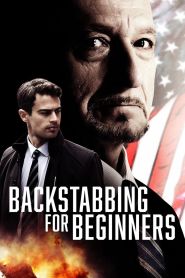 General Information
Glossary: B
Released Year: 2018
Runtime: 108 minutes
Genre: Drama, History, Thriller
Directors: Per Fly
Casts: Ben Kingsley, Theo James, Aidan Devine, Brian Markinson, Shauna MacDonald, Mishu Vellani, Rossif Sutherland, Daniela Lavender, Jacqueline Bisset, Elena Khan, Fabio Lusvarghi, Rachel Wilson, Dwight Ireland, Alex Hatz, Belcim Bilgin Erdogan, Peshang Rad, Hattie Kragten, Carlos Pinder, Zahir Gilani, Abbas Abdulghani
IMDB: Backstabbing for Beginners (2018)
Sponsored Links
Ratings
User Rating:
IMDB Rating:
6.1
Reviews
Variety

-

It's to the film's credit that it creates a sense of high-stakes peril despite us knowing the rough outcome from the get-go, and largely without simplifying its moral dilemmas into straightforward choices between heroism and villainy.

Los Angeles Times

-

Although James' muted performance comes across as a bit lifeless alongside Kingsley's more colorful, masterfully modulated turn, the characterizations nevertheless allow for satisfyingly complex, real-world renderings of conventional heroes and villains.

Movie Nation

-

"Backstabbing" makes an interesting run at painting the many shades of grey in this corner of diplomacy.

The Hollywood Reporter

-

The most thrilling aspect of director Per Fly's drama is watching the interactions between co-stars Theo James and Ben Kingsley. Even as James sucks all the energy out of the room with his inert performance, Kingsley creates oxygen with his dynamic, wildly entertaining turn.

Observer

-

There are so many ideas rattling around in Backstabbing for Beginners that are never resolved, and so many duplicitous characters that are never satisfactorily explained, that the end result is a muddle of confusion and violence that could end the future of tourism in Baghdad forever.
Backstabbing for Beginners (2018)
An idealistic young employee at the U.N. investigates the grizzly murder of his predecessor – and uncovers a vast global conspiracy that may involve his own boss.