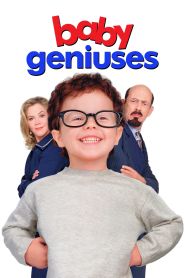 General Information
Glossary: B
Released Year: 1999
Runtime: 97 minutes
Genre: Comedy, Crime, Family, Sci-Fi
Directors: Bob Clark
Casts: Kim Cattrall, Christopher Lloyd, Peter MacNicol, Kathleen Turner, Dom DeLuise, Dan Monahan
IMDB: Baby Geniuses (1999)
Sponsored Links
Ratings
User Rating:
IMDB Rating:
2.6
Reviews
Film Threat

-

This movie wasn't nearly as bad as I thought it would be. It's still not that good though.

Chicago Sun-Times

-

Bad films are easy to make, but a film as unpleasant as Baby Geniuses' achieves a kind of grandeur.

The Globe and Mail (Toronto)

-

About as endearing as unanesthetized gum surgery.

Chicago Reader

-

The hokey dialogue and witless physical gags keep everything painful and hectoring.

L.A. Weekly

-

There are ticklish moments, but no real laughs.
Baby Geniuses (1999)
Scientist hold talking, super-intelligent babies captive, but things take a turn for the worse when a mix-up occurs between a baby genius and its twin.