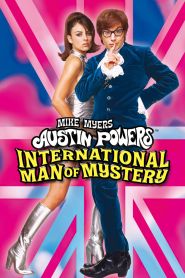 General Information
Glossary: A
Released Year: 1997
Runtime: 94 minutes
Genre: Comedy, Crime
Directors: Jay Roach
Casts: Will Ferrell, Mike Myers, Michael York, Robert Wagner, Rob Lowe, Seth Green, Mindy Sterling, Elizabeth Hurley, Clint Howard, Michael McDonald, Charles Napier, Patricia Tallman, Mimi Rogers, Fabiana Udenio, Paul Dillon, Joann Richter, Anastasia Sakelaris, Afifi Alaouie, Monet Mazur, Elya Baskin, Joe Son, Larry Thomas, Cindy Margolis, Donna W. Scott, Cynthia Lamontagne, Tom Arnold, Joe Grisaffi, Carrie Fisher, Cheri Oteri, Christian Slater
IMDB: Austin Powers International Man of Mystery (1997)
Sponsored Links
Ratings
User Rating:
IMDB Rating:
7.0
Reviews
TNT RoughCut

-

Myers gives us all of the exaggerated physical schtick of Jim Carrey plus the added bonus of wickedly clever writing that refuses to let you escape.

San Francisco Examiner

-

Austin is funny, extremely funny, because he is so ridiculous, and because Myers is a brilliant mimic who, like Martin Short, knows how to do ridiculous.

Austin Chronicle

-

Austin Powers is the kind of movie Mel Brooks used to make -- extravagantly funny, with plenty of juvenile humor, but as much or more of it smart, delivered with a dead aim at a cultural milestone, affection for its victim, and style.

San Francisco Chronicle

-

Austin Powers sounded like a silly idea, but it turns out to be one of the best comedies of the year.

Chicago Tribune

-

The key to the film, however, is the joyous performance of Mike Myers, who plays both the Beatle-mopped Austin Powers and the bald-headed Dr. Evil.
Austin Powers International Man of Mystery (1997)
As a swingin' fashion photographer by day and a groovy British superagent by night, Austin Powers is the '60s' most shagadelic spy, baby! But can he stop megalomaniac Dr. Evil after the bald villain freezes himself and unthaws in the '90s? With the help of sexy sidekick Vanessa Kensington, he just might.