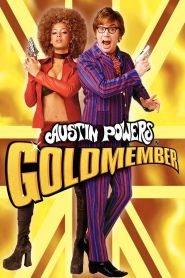 General Information
Glossary: A
Released Year: 2002
Runtime: 94 minutes
Genre: Action, Comedy, Crime
Directors: Jay Roach
Casts: Steven Spielberg, Kevin Spacey, Gwyneth Paltrow, Sonny Sison , Mike Myers, Michael York, Robert Wagner, Rob Lowe, Seth Green, Mindy Sterling, Verne Troyer, Kevin Cooney, Clint Howard, Michael McDonald, Faune A. Chambers, Kristen Johnston, Beyoncé Knowles, Michael Caine, Fred Savage, Diane Mizota, Carrie Ann Inaba, Nobu Matsuhisa, Anna Marie Goddard, Aaron Himelstein, Josh Zuckerman, Evan Farmer, Tom Lister Jr., Nichole Hiltz, Angela Meryl, Scott Aukerman, John Travolta, Danny DeVito, Tom Cruise, Eddie Adams, Neil Mullarkey, Eric Winzenried, Jim Piddock, Esther Scott, Leyna Nguyen, Jeannette Charles, Brian Tee, Masi Oka, Donna D'Errico, Fred Stoller, Brad Grunberg, Greg Grunberg, Ren Urano, Kinga Philipps, John Donovan, Masa Kanome, Hideo Kimura, Hiroshi Otaguro, Kevin Alexander Stea, Linda Kim, Nina Kaczorowski, Tammy Vanderpool, Nikki Ziering, Sybil Azur, Nicole Humphries, Patrice Fisher, Timothy Anderson, Kelly Cooper, R.J. Durell, Shaun Earl, Michelle Elkin, Jennifer Hamilton, Hunter Hamilton, Michael Higgins, Mark Meismer, Mandy Moore, Ayesha Orange, Nathan Prevost, Liz Ramos, Shealan Spencer, Becca Sweitzer, Salvatore Vassallo, Robert Vinson, Amie Barsky, Lina Chmiel, Sharon Ferguson, Trey Knight, Brian Richardson, Kimberlee Suerth, Lakisha Swift, Nathan Lane, Katie Couric, Ryan Allen Carrillo, Michael Chaturantabut, Gabriel Corbin, Devyn Duex, Christy McGinity Gibel, Paul Grace, Ben Hisoler, Will Holman, Eiji Inoue, Jimmy Jatho, Charles M. Kerper, Martin Klebba, Carolina Lancaster, Ryan McGonagle, Kinsey McLean, Marylee Picciano, Gene Anthony Ray, Tara Rice, Nicole Sciacca, Matt Sergott, Michael Sun Lee, Chris Sung, Andreanna Veith, Kevin Vila, Dan Warner, Shane Zeranski, Ozzy Osbourne, Britney Spears
IMDB: Austin Powers in Goldmember (2002)
Sponsored Links
Ratings
User Rating:
IMDB Rating:
6.2
Reviews
The New York Times

-

Like a giant balloon painted with Day-Glo colors, however, the whole gaudy mess wouldn't inflate without the force of Mr. Myers's comic genius. It's his baby, baby. And after three editions, it's still flying high.

Boston Globe

-

The most consistently funny of the ''Austin Powers'' films.

Wall Street Journal

-

Nothing to write home about, though nothing to stay home about either, especially if you're a dyed-in-the-polyester Powers fan.

New Times (L.A.)

-

The movie will leave you smiling forgetfully on the way out, and Myers will have done his job.

Austin Chronicle

-

The latest installment in the Austin Powers series has stopped making much sense at all, but it sure gets its giggle on, and good.
Austin Powers in Goldmember (2002)
The world's most shagadelic spy continues his fight against Dr. Evil. This time, the diabolical doctor and his clone, Mini-Me, team up with a new foe -- '70s kingpin Goldmember. While pursuing the team of villains to stop them from world domination, Austin gets help from his dad and an old girlfriend.