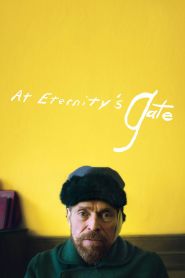 General Information
Glossary: A
Released Year: 2018
Runtime: 110 minutes
Genre: Drama
Directors: Julian Schnabel
Writers: Jean-Claude Carrière, Julian Schnabel, Louise Kugelberg
Casts: Mads Mikkelsen, Niels Arestrup, Willem Dafoe, Oscar Isaac, Mathieu Amalric, Vincent Grass, Stella Schnabel, Laurent Bateau, Emmanuelle Seigner, Rupert Friend, Lolita Chammah, Vladimir Consigny, Vincent Pérez, Amira Casar, Louis Garrel, Anne Consigny, Thierry Nenez, Arthur Jacquin, Solal Forte, Clément Paul Lhuaire, Alan Aubert, Frank Molinaro, Montassar Alaya, Didier Jarre, Johan Kugelberg, Alexis Michalik, François Delaive, Nicolas Abraham, Manuel Guillot, Victor Pontecorvo
IMDB: At Eternity's Gate (2018)
Sponsored Links
Ratings
User Rating:
IMDB Rating:
7.0
Reviews
IndieWire

-

Schnabel fuses form and content in a way that's rarely attempted and even more rarely achieved; in risking the same derision with which Van Gogh was sometimes met, he transcends the limitations of the conventional biopic and creates something that feels genuinely new.

Variety

-

Schnabel, the director of "Before Night Falls" and "The Diving Bell and the Butterfly," has stripped down his filmmaking in the most seductive way, all to achieve something audacious and elemental. He's out to imagine what Vincent van Gogh was really like — to bask in van Gogh's presence with an experiential, present-tense immediacy.

TheWrap

-

Schnabel creates a natural, immersive motion picture that conveys the experience of being, living with, and painting like Vincent Van Gogh.

The Film Stage

-

At Eternity's Gate is a film made by an artist ("plates painter" Schnabel) less concerned with a painter, more with the way a painter saw the world. In its rupture from traditional biographical narratives, it does not merely stand out as unconventional biopic–it also comes close to resuscitating the idea of cinema as moving pictures.

Time

-

Schnabel's dream portrait of van Gogh is made whole by its star, Willem Dafoe, whose radiant intensity fills every corner of the film.
At Eternity's Gate (2018)
Famed but tormented artist Vincent van Gogh spends his final years in Arles, France, painting masterworks of the natural world that surrounds him.