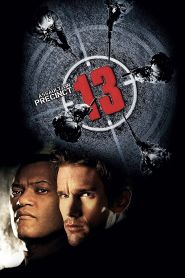 General Information
Glossary: A
Released Year: 2005
Runtime: 109 minutes
Genre: Action, Crime, Drama, Thriller
Directors: Jean-François Richet
Casts: Laurence Fishburne, John Leguizamo, Kim Coates, Fulvio Cecere, Drea de Matteo, Arnold Pinnock, Matt Craven, Brian Dennehy, Maria Bello, Aisha Hinds, Ethan Hawke, DTeflon, Dorian Harewood, Ja Rule, Gabriel Byrne, Robert Hayley, Tig Fong, Currie Graham, Peter Bryant, Hugh Dillon, Edward A. Queffelec, Ray Kahnert, Jasmin Geljo, Philip Marshall
IMDB: Assault on Precinct 13 (2005)
Sponsored Links
Ratings
User Rating:
IMDB Rating:
6.3
Reviews
Los Angeles Times

-

Smart, satisfying action entertainment that is also a perceptive work of considerable artistry.

ReelViews

-

For what it is, Assault on Precinct 13 delivers. It's not great art, but, for B-movie fans and those looking for a mid-winter jolt of energy, it's good fun.

The Hollywood Reporter

-

The 1976 John Carpenter original has been reworked enough to give the urban thriller a distinct flavor of its own, and stars Ethan Hawke and Laurence Fishburne provide enough gravitas to keep things involving.

Variety

-

In an era when similar genre pics increasingly resemble videogames, musicvideos or glossy commercials, the blunt, brawny simplicity of helmer Jean-Francois Richet's storytelling style seems positively novel.

New York Magazine (Vulture)

-

It's simply an astringent action flick that uses the wounded sensitivity of Ethan Hawke and Fishburne's witty hauteur to give the shoot-'em-up scenes some juice.
Assault on Precinct 13 (2005)
On New Year's Eve, inside a police station that's about to be closed for good, officer Jake Roenick must cobble together a force made up cops and criminals to save themselves from a mob looking to kill mobster Marion Bishop.