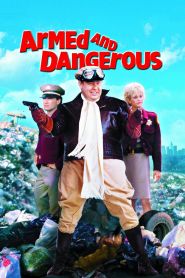 General Information
Glossary: A
Released Year: 1986
Runtime: 88 minutes
Genre: Action, Comedy, Crime
Directors: Mark L. Lester
Casts: Tom Lister Jr., Robert Loggia, Jonathan Banks, Eugene Levy, Steve Railsback, Bruce Kirby, John Candy, Larry Hankin, Tony Burton, Meg Ryan, Brion James, Don Stroud, Glenn Withrow, James Tolkan, Kenneth McMillan, David Hess, Judy Landers
IMDB: Armed and Dangerous (1986)
Sponsored Links
Ratings
User Rating:
IMDB Rating:
5.6
Reviews
Los Angeles Times

-

The first 15 minutes have some funny bits, but the movie winds up sapping you. It's a kind of whoopee-cushion nightmare, as if you woke up one morning and noticed that everyone on the street was drooling on his or her tie.

TV Guide Magazine

-

The movie is flat, often pushy, and has none of the bubbling joy of the SCTV sketches that Candy and Levy illuminated with their presence. Set pieces are tossed in every few minutes in a vain reach for laughter; but under director Lester's sloppy hand, there is very little to laugh at.

Chicago Tribune

-

Armed and Dangerous is an extremely violent, often mean-spirited comedy in which most of the gags depend on the absurdly excessive use of force. Jokes like these are designed to appeal to adolescent power fantasies, and while kids may love them, adults are likely to be bored by their repetitiousness and senselessness.

Miami Herald

-

An object lesson in wasting a talented comedian. The film is so far off base that Candy winds up an action hero, and his co- star, Eugene Levy (who was even weaselier on SCTV) gets the girl. [15 Aug 1986, p.D2]

The Globe and Mail (Toronto)

-

Hired hand Lester made one of the worst films of the decade, Firestarter, and he's still getting his jollies by incinerating people on the screen. Last time it was supposed to be scary and this time it's supposed to be funny; both times it's been simply boring and somewhat offensive. [20 Aug 1986, p.C5]
Armed and Dangerous (1986)
Dooley, a cop wrongly sacked for corruption, teams up with a useless defence lawyer in their new careers... as security guards. When the two are made fall guys for a robbery at a location they are guarding, the pair begin to investigate corruption within the company and their union. They soon make enemies of everyone, but can the unlikely duo save the day?