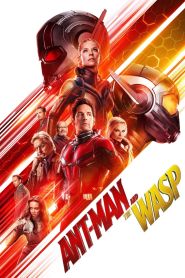 General Information
Glossary: A
Released Year: 2018
Runtime: 119 minutes
Genre: Action, Adventure, Sci-Fi
Directors: Peyton Reed
Casts: Michael Peña, Laurence Fishburne, Paul Rudd, Stan Lee, Judy Greer, Julia Vera, Brian Huskey, Denney Pierce, Evangeline Lilly, Zachary Culbertson, Rick Richardson, Bobby Cannavale, Walton Goggins, Randall Park, Dax Griffin, Michelle Pfeiffer, Michael Douglas, T.I., Goran Kostić, Darcy Shean, Rob Archer, Steven Wiig, Tim Heidecker, Chris Gann, Vanessa Ross, Riann Steele, David Dastmalchian, Bryan Lugo, Joshua Mikel, Suehyla El-Attar, Madeleine McGraw, Hayley Lovitt, Abby Ryder Fortson, Hannah John-Kamen, Torrey Vogel, Tahseen Ghauri, Divian Ladwa, Benjamin Byron Davis, Ronald Joe Vasquez, Michael Cerveris, Timothy Carr, Jamel Chambers, Dale Liner, William W. Barbour, Sean Kleier, Langston Fishburne, RaeLynn Bratten, Charles Justo, Jessica Winther, Norwood J. Cheek Jr., Simon Potter, Jon Wurster, Tom Scharpling, Virginia Hamilton, Natasha Zouves, Sergio Briones, Sawyer Jones, Benjamin Weaver, Jennifer Black, Sandra Dee Richardson, John Ozuna, Marcella Bragio, Sophia Marcs, Kevin Carscallen, Seth McCracken
IMDB: Ant-Man and the Wasp (2018)
Sponsored Links
Ratings
User Rating:
IMDB Rating:
7.3
Reviews
Variety

-

Ant-Man and the Wasp has a pleasingly breakneck, now-you-see-it-now-you-don't surreal glee. It's a cunningly swift and delightful comedy of scale.

Screen International

-

Paul Rudd and his equally likeable cast mates find the heart and humour in familiar comic-book theatrics, resulting in a film which is less concerned with generating awe than in delivering plenty of goofy grins.

Chicago Tribune

-

Visually here's the crucial thing with Ant-Man and the Wasp, and it sounds like a small thing, but really it's a big thing: The sequel has upped the instances and exploits of the rapidly changing superheroes, and every time the movie cuts to a shot of the heroes' miniaturized car, scooting around the streets of San Francisco, it's good for a laugh.

USA Today

-

While Ant-Man's technically "the star," this is most definitely the Wasp's movie to own, and the smirking, enjoyably no-nonsense role fits Lilly well.

TheWrap

-

For audiences who like Marvel movies at their tongue-in-cheekiest, this sequel provides some breezy fun while we wait to find out just how permanent Thanos' genocidal schemes really are.
Ant-Man and the Wasp (2018)
Just when his time under house arrest is about to end, Scott Lang puts again his freedom at risk to help Hope van Dyne and Dr. Hank Pym dive into the quantum realm and try to accomplish, against time and any chance of success, a very dangerous rescue mission.