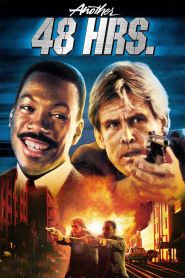 General Information
Glossary: A
Released Year: 1990
Runtime: 95 minutes
Genre: Action, Comedy, Crime, Drama, Thriller
Directors: Walter Hill
Casts: Eddie Murphy, Dean Rader Duval, Brent Jennings, Ken Medlock, Nick Nolte, Tisha Campbell-Martin, Andrew Divoff, Kevin Tighe, Brion James, Ed O'Ross, Ted Markland, Bernie Casey, Felice Orlandi, Edward Walsh, David Anthony Marshall
IMDB: Another 48 Hrs. (1990)
Sponsored Links
Ratings
User Rating:
IMDB Rating:
5.8
Reviews
Washington Post

-

The movie isn't a disaster, and if you responded to the first one, its memory may carry you over the roughness, the excessive, ugly violence and lack of conviction here. Hill and his stars are merely going through the motions, but the motions are immensely familiar. If you've been there before, then you've been there.

Chicago Sun-Times

-

If it does nothing else, Another 48 HRS reminds us that Murphy is a big, genuine talent. Now it's time for him to make a good movie.

USA Today

-

Another 48 HRS. doesn't offer a whole lot beyond Eddie Murphy, Nick Nolte, and Walter Hill's action-scene flair, but are you telling me the first 48 HRS. did? Bottom line: Eddie-Nick enthusiasts and Paramount accountants won't cry 96 tears. [8 Jun 1990, p.1D]

Chicago Tribune

-

This is a generic action picture. What also is missing are scenes in which Nolte and Murphy could relate to each other quietly and with some wit. [8 Jun 1990, p.C]

Christian Science Monitor

-

The story is mostly a rehash of the original "48 Hrs.," with the same hard-boiled mixture of violence and wisecracks. Directed by Walter Hill, who specializes in this kind of thing and gives it a certain conviction, if little else. [13 Jul 1990, p.10]
Another 48 Hrs. (1990)
For the past four years, San Francisco cop Jack Cates has been after an unidentified drug kingpin who calls himself the "Ice Man". Jack finds a picture that proves that the Ice Man has put a price on the head of Reggie Hammond, who is scheduled to be released from prison on the next day.