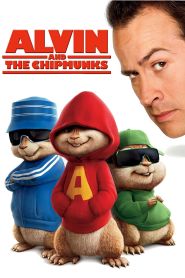 General Information
Glossary: A
Released Year: 2007
Runtime: 92 minutes
Genre: Animation, Comedy, Family, Fantasy, Music
Directors: Tim Hill
Casts: Veronica Alicino, David Cross, Justin Long, Jane Lynch, Matthew Gray Gubler, Adriane Lenox, Natalie Cohen, Jason Lee, Tiara Parker, Jayden Lund, Cameron Richardson, Jillian Barberie, Jesse McCartney, Allison Karman, Kira Verrastro, Beth Riesgraf, Don Tiffany, Frank Maharajh, Kevin Symons, Alexis Boyd, Kyndra Reevey, Jay Bird, Kevin Fung, Kevin Fisher
IMDB: Alvin and the Chipmunks (2007)
Sponsored Links
Ratings
User Rating:
IMDB Rating:
5.2
Reviews
Premiere

-

At times funny, and even occasionally witty, Alvin and the Chipmunks is a lively, entertaining romp that will certainly bring smiles to the young ones this holiday season.

L.A. Weekly

-

Lee, acting through gritted teeth, barely musters the energy to yell "Alvin!," but the chipmunks themselves -- voiced by Justin Long, Matthew Gray Gubler and Jesse McCartney -- are surprisingly appealing, though their newly R&B-tinged rendition of "Witch Doctor" is god-awful.

Variety

-

A harmless and frequently humorous trifle.

Chicago Tribune

-

So it's one of those Hip, Now updates, albeit with jokes riffing on pop-cult artifacts that are already Then. I mean: "Jerry Maguire"? Moratorium!

The Hollywood Reporter

-

Unfortunately, as rendered here by the average-looking CGI effects, the characters are underwhelming in their appeal, lacking the charm of their previous animated incarnations.
Alvin and the Chipmunks (2007)
A struggling songwriter named Dave Seville finds success when he comes across a trio of singing chipmunks: mischievous leader Alvin, brainy Simon, and chubby, impressionable Theodore.