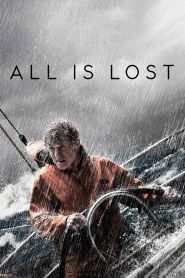 General Information
Glossary: A
Released Year: 2013
Runtime: 106 minutes
Genre: Action, Adventure, Drama
Directors: J.C. Chandor
Casts: Robert Redford
IMDB: All Is Lost (2013)
Sponsored Links
Ratings
User Rating:
IMDB Rating:
6.9
Reviews
IndieWire

-

The movie is an impressively realized work of minimalist storytelling that foregrounds Redford's physicality more than any other role in his celebrated career. His performance defines the movie to an almost shockingly experimental degree.

Film.com

-

Chandor delivers pure cinema. Thrilling and adventuresome, this is a career highlight from the uniquely sympathetic Robert Redford.

New York Magazine (Vulture)

-

In his late seventies, Robert Redford has never held the camera as magnificently as he does in the survival-at-sea thriller All Is Lost.

The Playlist

-

All Is Lost is a taut, superbly crafted addition to the survival story genre.

Variety

-

A virtually wordless film that speaks with grave eloquence and simplicity about the human condition. Nothing here feels fancy or extraneous, least of all Redford's superb performance.
All Is Lost (2013)
During a solo voyage in the Indian Ocean, a veteran mariner awakes to find his vessel taking on water after a collision with a stray shipping container. With his radio and navigation equipment disabled, he sails unknowingly into a violent storm and barely escapes with his life. With any luck, the ocean currents may carry him into a shipping lane -- but, with supplies dwindling and the sharks circling, the sailor is forced to face his own mortality.