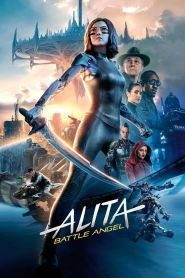 General Information
Glossary: A
Released Year: 2019
Runtime: 122 minutes
Genre: Action, Adventure, Sci-Fi, Thriller
Directors: Robert Rodriguez
Casts: Sam Medina, Jennifer Connelly, Christoph Waltz, Michelle Rodriguez, Edward Norton, Garrett Warren, Derek Mears, Rick Yune, Dimitrius Pulido, Mahershala Ali, Gary Teague, Heath Young, Gregg Berger, Marko Zaror, Jeff Fahey, Jackie Earle Haley, Billy Blair, Hugo Perez, Casper Van Dien, Ed Skrein, Jai Courtney, Rosa Salazar, David Sobolov, Vincent Fuentes, John Wirt, Leonard Wu, Jorge A. Jimenez, Don Daro, Eiza González, Racer Rodriguez, Jorge Lendeborg Jr., Lana Condor, Michael Wakefield, Keil Oakley Zepernick, Keean Johnson, Idara Victor, Jamie Landau, Patrick Gathron, Elle LaMont, Alex Livinalli, Neal Kodinsky, Anthony Bandmann, Alan Nguyen, Tod Junker, Darcel Danielle, Emma Lindsey, Liz Tabish, Tony LaThanh, Ibrahima Thiam, Paul de Sousa, Jeff Bottoms, Tristan Riggs, Marque Hernandez, Liza Wilk, Rachel Prieto, Charlotte Delaney Riggs, Gregory Alexander Wight, King, Ricky Lee, Alex Moore, Michael W. Bunch, Betsy Medina, Amanda Marie Wilkinson, Philippe Auguste, Tyler Vogel, Derrick Gilbert
IMDB: Alita: Battle Angel (2019)
Sponsored Links
Ratings
User Rating:
IMDB Rating:
7.5
Reviews
IndieWire

-

Alita: Battle Angel is [Rodriguez's] best film since he brought Frank Miller's graphic novel to the screen, a sci-fi epic that does something rare in an age of endless adaptations and reboots: lives up to its potential while leaving you wanting more.

IGN

-

Alita: Battle Angel is Robert Rodriguez's best film in many years. It's an ambitious, impressive, visually spectacular production with great performances that make its strange world seem real.

The Guardian

-

Alita: Battle Angel is a film with Imax spectacle and big effects. But for all its scale, it might end up being put on for 13-year-olds as a sleepover entertainment. It doesn't have the grownup, challenging, complicated ideas of Ghost in the Shell. A vanilla dystopian romance.

ScreenCrush

-

Alita barely considers any of the existential questions about humanity that are typically central to this kind of sci-fi film. It's just a slick action film. That is one way, at least, it does feel like a Robert Rodriguez movie.

Empire

-

Best enjoyed for the fun, slick action and the astonishing, super-expressive realisation of Alita herself, because elsewhere it's cyberpunk business as usual, marred by some sloppy plotting.
Alita: Battle Angel (2019)
When Alita awakens with no memory of who she is in a future world she does not recognize, she is taken in by Ido, a compassionate doctor who realizes that somewhere in this abandoned cyborg shell is the heart and soul of a young woman with an extraordinary past.